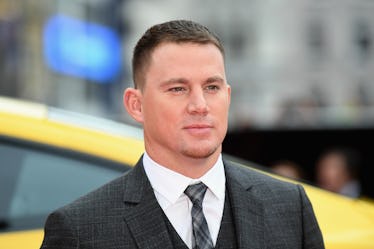 Channing Tatum's Rainbow Unicorn Costume Is The Ultimate Way To Win Halloween
Stuart C. Wilson/Getty Images Entertainment/Getty Images
Regardless of what he is wearing (or not wearing), the beloved Magic Mike never fails to make fans swoon. Without question, his latest look is guaranteed to melt hearts everywhere... even if it's not his sexiest. Photos of Channing Tatum's Halloween costume are not only adorable, but they'll hit people in the feels for the best reason.
Tatum stepped out with an a ode to My Little Pony, and it's truly as spectacular as it gets. Donning a purple sweatshirt and a unicorn headpiece, the hunky hubby and father of one's eye-catching ensemble could probably stop traffic. Let's face it: That shade of lavender totally brings out his eyes and pairs perfectly well with his sultry smile. Let's not forget to mention that the tight-fitting top also accentuates his pecs.
And what unicorn costume is complete without a tail? Naturally, Tatum sports a multicolored rainbow tail that rests right under his light purple Herschel backpack (which likely contains other Halloween goodies). Since no look is complete without an #OOTD-like coverage, his lovely wife Jenna Dewan-Tatum decided to share the magic on her Instagram stories, for which social media onlookers are eternally grateful.
And here it is, folks — a sexy fella that needs no introduction but we'll provide one anyway: Channing Unicorn-Costume-Wearing Tatum.
That pink pumpkin perfectly completes the look, wouldn't you say? As silly and non-sexy as this costume is, the reason for wearing it is the best of them all. Tatum dressed up to accompany his wife and little girl Everly — who both decided to dress up as fairies — taking the role of the unicorn of the group. The family of three was attending 4-year-old Everly's pre-school Halloween party, so if a handsome dad who will do anything for his child and wife isn't enough to make you weak in the knees, I'm not entirely sure how to proceed from there.
Of course, the internet loved Tatum's magically impressive unicorn look... and his reason for wearing it in the first place.
Here's Jenna, the fairy to her hubby's unicorn. How stinking cute is this outfit?
If the unicorn outfit hit you right in the feels, we have some good news before Halloween next week. There are plenty of ways to channel Tatum's adorable look and reminisce about the cuteness overload you witnessed on social media. Rejoice, My Little Pony fans — it's your turn to ooze rainbows and glitter.
Let's take a look at unicorn option #1.
Spirit Halloween really delivers with this white unicorn onesie for a relatively low price of $34.99. The white ensemble comes complete with pink ears and (of course) a rainbow-colored horn and a pink tail. If you're going to go all out, this is clearly the way to go.
Here's a way to take your makeup on a magical ride.
Etsy offers a $30+ unicorn horn chain headdress that will go perfectly well with light-colored rainbow hair and a dash of bright-colored makeup. You'll be able to pick an outfit of your choosing — most likely something neon or pastel-colored — thanks to this option. So what are you waiting for? Get on it.
Lastly, here's a subtle ode to the not-so-subtle unicorn.
Hot Topic sells the mother of all things mystical: Lisa Frank t-shirts. For $20, fans can purchase unicorn shirts that will go amazingly well with a fancy makeup job... plus you can totally wear the shirt again. It's a win-win if ever there was one.
Thank you, Mr. Tatum, for providing your fans with something that has made us all swoon, giggle, and smile all in one.
Check out the entire Gen Why series and other videos on Facebook and the Bustle app across Apple TV, Roku, and Amazon Fire TV.