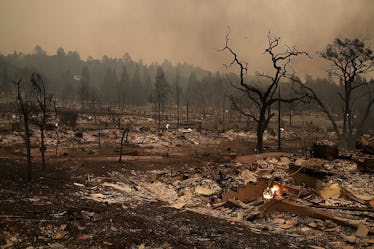 California Wildfires Are So Bad The Smoke Is Visible From Space
Justin Sullivan/Getty Images News/Getty Images
Over the weekend, a massive group of wildfires sparked to life in California, and they're showing no signs of letting up. Photos of the California wildfires show extensive damage. The amount of smoke and destruction generated by the still-active fires is so extreme that it can be seen from space. As of 4 p.m. ET Tuesday, Oct. 10, 15 people have died and another 150 are missing, according to the San Francisco Chronicle.
CNN reports that nearly 120,000 acres have already burned — on Monday, the flames wiped through areas the size of a football field every 3 seconds, according to CNN. There are currently about a dozen fires ripping through the Northern California area.
As of 1:30 p.m. ET Tuesday, CalFire reported that 571 structures have been burned, with nearly 650 personnel on scene, just for the Tubbs fire alone, and that's only one of them. By last count, the California fire map showed 33 active burns across across the state. Reports appear to vary on the number of fires. According to state officials interviewed by the New York Times, 17 separate fires began on Sunday night and proceeded to decimate the area. Some of the most destructive of them had not been contained by Monday night.
Residents said that the flames jumped Highway 101 near downtown Santa Rosa. CNN says more than 100 people have been taken to hospitals and are being treated for smoke inhalation, shortness of breath, and burns. Some 20,000 people have been evacuated, including at least a couple regional hospitals, and the San Francisco Chronicle reports that some 3,000 are in shelters. A list of shelters can be found here.
According to the Chronicle, more than 2,000 structures have been lost to the flames (including, apparently, an Arby's).
Numerous photos show the damage to cherished vineyards and wineries in the world-famous Napa and Sonoma regions, both known for their wines. Some establishments were completely gutted.
Residents described watching their homes — and in the case for winery owners, their livelihoods — go up in flames in a matter of moments. Eight counties in total are affected by the fires across the state.
NASA has been tracking the fires' spread from above, and it's not pretty. The satellite images show a swath of grey-brown hugging the Pacific coast. (Yep, that's smoke, not clouds.)
Another image shows the light emanating from the fires.
These images, though, aren't just here to make us sad and panic about all these natural disasters. The Washington Post reports that satellite images like these play a huge role in helping fire fighters manage, track, and evaluate the fires, their spreads and directions in real time.
The fires have been aided by years-long droughts and extreme wind — hurricane-force winds, to be precise, to the tune of 79 mph. The Washington Post explains that, thanks to very low humidity and consistent 50- to 60-mph winds, containing the fire has been a mammoth task.
And adding insult to injury, the much-needed rains last winter, which Northern California had been praying for, caused essentially a growth spurt for regional vegetation. This turned from good news to bad as the next several months proved extremeley dry; the area had all summer to generate plenty of fast-burning fuel and very little moisture to combat it.
The wind patterns are also to blame for what is turning out to be a historic set of fires for the state. Because the wind is coming from the east, where there are big areas of high pressure, the wind as it blows westward are hot and dry — perfect for fanning flames.
Images of hot spots indicate that Tuesday is already seeing a bit of relief as the winds are dying down. But the National Weather Service issued a high-wind warning for parts of Northern California just after 3 p.m. ET on Tuesday. For now, we'll be keeping California in our thoughts and hoping for good news.