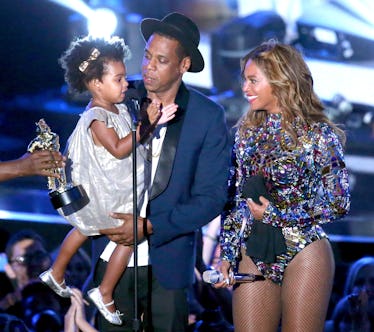 Everyone Is Losing It Over Beyoncé's Resemblance To Blue Ivy In This Throwback Picture
Mark Davis/Getty Images Entertainment/Getty Images
Alert the BeyHive: This is not a drill. Tina Lawson, Queen Bey's mom, posted a throwback photo of Beyoncé as a kid on Instagram on Saturday. And now everyone — or at least everyone with their priorities in the right place — is losing it.
You see, it's not just any picture of our lady and goddess Beyoncé as a child. In the image, a profile shot of the songstress, Bey looks like a dead ringer for her oldest daughter, Blue Ivy.
But, hey, don't just take it from me. The ultimate Beyoncé expert, her mom, brought it up in the caption. "If Beyonce don't look like Blue on this photo!!! Getting her braids done by Toni," she wrote.
Fans immediately jumped into the comments, agreeing with Lawson about the resemblance, and calling Bey the "spitting image" of her daughter. Many posted that they even mistook Beyoncé for Blue Ivy in the picture, remarking that the five year-old had grown up so quickly. One even asked if Toni, the hair stylist, knew she was doing the hair of an icon to-be.
Now, ever since Blue Ivy graced this earth with her presence, she's been an Instagram star in her own right. She graced the 2016 MTV Video Music Awards red carpet in a tiara, basically gave a makeup tutorial, and dressed up with her mom and grandmom as Salt-N-Pepa and DJ Spinderella. And clearly, we can see where she gets it.
The image isn't the first time that Blue Ivy and Beyoncé have looked alike.
The pair frequently wear matching outfits, like when they posed together in floral dresses on a balcony in Paris (with Blue just looking ridiculously adorable) and, in a different set of floral dresses, sat on a swing set together. Bey's layered shirt (or is it a single multi-print shirt?) even reminds me of the color scheme of some of Blue Ivy's looks.
More recently, too, the pair have glammed it up together.
At a wedding on Oct. 7 in New Orleans, the Carters attended looking stylish as ever. Beyoncé, Blue Ivy and Jay-Z donned their finest formal wear to reportedly celebrate the nuptials of their close friends. Bey wore a flowing peach frock, while Blue Ivy wore a Mischka Aoki dress that retails between $3,456.90 and $5,577.50. Hubby Jay wore a suit with a hip floral button-up. The designer behind Blue's outfit even posted a video of her at the event.
After giving birth to twins Sir and Rumi in June, Bey has touted her own fashion sense on Instagram, from Louis Vuitton animal print to color blocking looks. After Teen Vogue featured Kaia Gerber, Cindy Crawford's daughter, on the cover, the publication's parent, Vogue, speculated if Bey and Blue's mother-daughter resemblance would lead to their own domination (I sure hope so).
The Carter family hasn't just been dominating fashion and Instagram lately.
In response to Hurricane Maria, Beyoncé has combined forces to with reggaetón artist J Balvin to make a new remix of his hit song "Mi Gente." All proceeds from the song will be donated to charities working in Puerto Rico, Mexico, and impacted Caribbean Islands.
In the wake of Hurricane Maria, as well as Hurricanes Harvey and Irma which slammed Texas and Florida respectively, Beyoncé, who's from Houston, included a list of organizations working to clean up the devastation. "We're heartbroken by the hurricanes and earthquakes that have devastated families around the world. There are many ways to help," a statement on her website said.
Beyoncé: She resembles her adorable daughter, flies to friends' weddings out of state, demonstrates her impeccable sense of fashion on Instagram and finds time to record music to benefit hurricane victims.
What more do you need to be crazy in love with that?