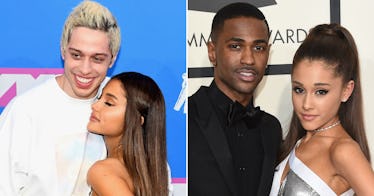 Pete Davidson Got A Tattoo In Tribute To Ariana Grande's Ex When He Was 17
Nicholas Hunt/Getty Images Entertainment/Getty Images; Jason Merritt/Getty Images Entertainment/Getty Images
Pete Davidson's interview with Variety is legit the gift that keeps on giving. I mean, he basically held nothing back during his chat for the publication's "Power of Young Hollywood" issue. Not only did the SNL star open up about his "dope" proposal to fiancée Ariana Grande, but he got real about his mental health struggles, losing his dad in the 9/11 attacks, and the fact that he worries Ari will eventually dump him. Break my heart into a billion pieces, why don't you? But there was one fun little fact Davidson shared about himself and it has to do with Pete Davidson's "Swerve" tattoo, which, it turns out, was the first one he ever got. In an ironic plot twist, the ink is basically a tribute to Grande's ex, rapper Big Sean, which sounds like it should be totally awkward, but is somehow totally not.
OK, so here's the deal. Davidson told Variety he got the tat with his buddy Ricky back when he was just 17 years old. "It says 'swerve life' because the Big Sean song ['Mercy,' with Kanye West, and Pusha T] had 'Swerve!'" in it, and we were like 'That's gonna last forever!'" he explained. "So now that's on our legs."
Cool story, bro. Actually, the whole thing is kinda sweet and funny and totally relatable to any kid who's ever been so deeply committed to their favorite pop star or band that they felt the need to get a bunch of song lyrics tattooed on their body. And no, I'm not talking about me.
Meanwhile, Davidson copped to having more than 50 tats all over his body (he's lost track of the exact amount), but he said his current fave is the Ariana Grande bunny ears that currently reside behind his ear at the top of his neck. Because duh.
"I think this one's super sick," he said. And, like, same.
He's also got a tattoo of Willy Wonka, and another of Hillary Clinton. "I got the tattoo after she lost the election because she's such a cool person," he explained. "I didn't do it like one of those Super Bowl guys that are like 'The Eagles! We're gonna win!' She's just, like, dope. She's just a dope person."
Other gems from the interview include Davidson's confession that he used to take tap dancing lessons when he was little ("I was six, and it was pretty lit. I was pretty good at tap dancing, I'm not gonna lie.") and the fact that he stocks the fridge, cleans the tables, and even does laundry on occasion in the 4,000-square-foot NYC apartment he shares with Grande. And yet despite the couple's quickie engagement, Davidson revealed that he never really planned to get married.
"I never thought I'd meet anyone like her," he explained. "I can't even put into words how great of a person she is. I could cry. She's the f*cking coolest, hottest, nicest person I've ever met. I'm f—ing living the goddamn dream. I feel like I'm living in a fantasyland."
Dope. So dope.