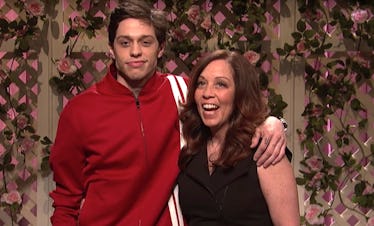 Pete Davidson's Mom's Reaction To The "Big D*ck Energy" Phenomenon Was So Hilarious
YouTube/SNL
Pete Davidson is literally everywhere right now thanks to his gig on Saturday Night Live and his recent coupling with Ariana Grande. His current relationship status and the fact that he's happier than ever has inspired one of the most popular memes of 2018: "Big D*ck Energy," also known as BDE. Apparently, Davidson's newfound happiness and confidence give off BDE, at least according to his fans. And Davidson's mom definitely had something to say about that. Pete Davidson's mom's reaction to his "Big D*ck Energy" is actually hilarious.
In a new interview with Variety, Davidson recalled the moment his mom decided to talk to him about all this BDE stuff that's going down on the internet. And it was embarrassing, but also really funny. Luckily, Davidson has a good sense of humor about the whole BDE thing.
"I don't hate it," Davidson told Variety. "I'm just really, really happy, and if that means I have big-d*ck energy, then sick. My favorite thing was my mom was like, 'Peter, they're saying you had a big penis just like your father.' What the f—!"
Oh my goodness, what a mess! But it's hilarious anyway. I'm sure Davidson got a good, hearty laugh out of that one.
All that embarrassing BDE talk aside, Davidson is really content with where he is in life right now. And he opened up to Variety about how much his love for Grande plays into his current happiness.
"I never thought I'd meet anyone like her," Davidson said of Grande. "I can't even put into words how great of a person she is. I could cry. She's the f—ing coolest, hottest, nicest person I've ever met."
Wow, it sounds like Davidson found his soulmate in Grande. When asked what his 12-year-old self would have thought of his life now, Davidson had this to say: "I'm f—ing living the goddamn dream. I feel like I'm living in a fantasyland."
In addition to talking about his love for Grande, whom he's set to marry sometime in the near future, Davidson also opened up about his distaste for the internet.
"The internet is evil, and I don't like how it affects me," he said. "I don't like how the internet is a place where anybody can sh*t on you and make anything up. I've worked really hard to get my brain to this place. I can't go online like everybody else because it's just a f–k-fest. And now I get to enjoy my life."
Davidson famously deleted his Instagram account in July 2018. He posted this statement with his reasoning for going AWOL:
No there's nothing wrong. No nothing happened. No there's nothing cryptic about anything. I just don't wanna be on Instagram anymore. Or on any social media platform. The internet is an evil place and it doesn't make me feel good. Why should I spend any time on negative energy when my real life is f*king lit. The fact that I even have to say this proves my point. I love you all and I'm sure I'll be back at some point. :) your neighborhood goon, Pete.
Even though Davidson isn't on Instagram anymore, he can thank all his fans on social media for branding him as the poster boy for BDE.