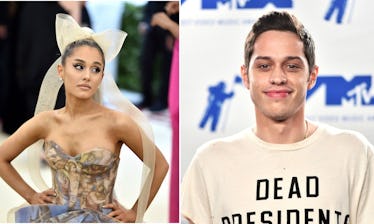 Pete Davidson's Been Covering His Ariana Grande Bunny Tattoo & Here's Why It's Not A Problem
CINDY ORD/GETTY IMAGES ENTERTAINMENT/GETTY IMAGES CHRIS JACKSON/GETTY IMAGES ENTERTAINMENT/GETTY IMAGES
Are Pete Davidson and Ariana Grande on the rocks already? Only if you believe the gossip about Davidson on social media! The 24-year-old comedian sparked breakup rumors after he was spotted seemingly without the tattoo he recently got in honor of Grande. Given that Davidson has so proudly displayed his love for Grande over the past few months, all this comes as a surprise to fans. Thankfully, Davidson and Grande are still together, but there's still one question to be answered: What's the real reason Pete Davidson covered up his Ariana Grande tattoo?
The tattoo in question was Davidson's tat of Grande's black bunny mask she made famous during the Dangerous Woman era. Back in June 2018, Davidson had the bunny mask tattooed right behind his ear. And in a photo from Sunday, July 29, which was published by TMZ, Davidson can be seen seemingly without said tattoo.
So, why on earth would Davidson remove or cover up a tattoo inspired by his beloved? The answer is probably pretty simple and drama free: he's working on a movie at the moment. So, it's very likely that he had the Grande-inspired tattoo covered up for the sake of the film, which makes total sense.
Davidson is starring in Big Time Adolescence alongside Machine Gun Kelly, Sydney Sweeney, Griffin Gluck, Thomas Barbusca, Emily Arlook, and Oona Laurence. So, Davidson has to be on his game right now.
But for all you Grande-Davidson fans out there who are worried about the stability of this union — you can rest assured that Grande and Davidson are still going strong.
Grande posted this photo of herself and Davidson on July 30:
So, there's nothing to worry about whatsoever. Thank goodness, right?
News of the tattoo cover-up comes just a week after both stars decided to take a break from social media. Naturally, the social media break coupled with the tattoo situation has fans just a little bit worried.
Truthfully, the concern over Grande and Davidson's relationship has no basis since Davidson explained in detail why he needed time away from social media.
In a statement posted to his Instagram Story, Davidson talked about why he deleted all his posts:
No there's nothing wrong. No nothing happened. No there's nothing cryptic about anything. I just don't wanna be on Instagram anymore. Or on any social media platform. The internet is an evil place and it doesn't make me feel good. Why should I spend any time on negative energy when my real life is f*king lit. The fact that I even have to say this proves my point. I love you all and I'm sure I'll be back at some point. :) your neighborhood goon, Pete.
All of that is totally valid, especially if you're someone like Davidson whose personal life is often the subject of tabloid fodder.
Grande also took a short break, but she's back at it now. So, fans need to rely on her for updates about the relationship, which she seems perfectly happy to give them.
Needless to say, amid all the tattoo and break-up gossip, Grande and Davidson seem like they're doing just fine. No need to worry about them. I'm sure they'd tell everyone if something bad was amiss.