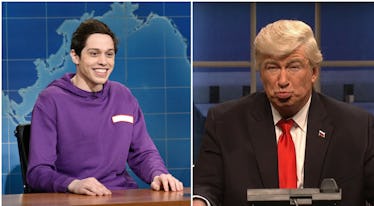 Pete Davidson Auditioned To Be Donald Trump On 'SNL,' But Clearly Failed
NBC
Every time a new political figure emerges, pop culture fans look to Saturday Night Live to see which cast member will have to start working on the perfect impression. Usually, the casting makes some sort of sense, but when SNL asked newcomer Pete Davidson to try out a Donald Trump impression years ago, even he admitted that it just did not look right at all. You heard right: Pete Davidson auditioned to be Donald Trump on SNL, as wild as that sounds, and he talked about the strange audition in a new profile with Variety.
In the new interview, Pete Davidson said that back in 2015, Saturday Night Live had asked him and every other male cast member to prepare an impression of the not-yet-nominated, presumably joke presidential candidate Donald Trump. Of course, Davidson definitely did not seem to be the frontrunner for the part: the comedian was 21 at the time, thin and gangly, whereas Trump was about to turn 70 and is... well, a very different body type from Davidson. Looking back, Davidson talked about what a bad audition that turned out to be:
It was bad. First of all, I'm 10 pounds, so I looked insane. They made us all get dressed up and tanned up. I sounded like Thunderlips from Rocky III. It was a nightmare. If I could get my hands on this tape, it's embarrassing as f—.
As we all know now, the part of Donald Trump wound up being given to a non-cast member: Alec Baldwin, who continues to make cameo appearances in character as Trump in nearly every new episode of the sketch series.
Instead of landing the show's most prominent celebrity impression, Pete Davidson found success on the series as himself rather than as someone else. Though less prominent in the sketches, Davidson has become known for his periodic rants on the Weekend Update segment of the show, in which he sits behind a desk and goes off about various topics. These topics have ranged from humorous takedowns of Staten Island to more profound reflections on his own struggles with sobriety and mental health. Davidson pointed out that these rants have become some of the most popular SNL clips on YouTube, and showrunner Lorne Michaels also marveled at the support he gets from the viewers.
Not too long after Pete Davidson had to try out a Donald Trump impression, the man himself made his way to 30 Rockefeller Plaza to host Saturday Night Live ahead of the Republican primaries in 2015. The Trump-hosted episode was a controversial one, and Davidson recalls that it was not a very fun one for the cast either:
It wasn't the most fun week ever. He doesn't get jokes. He doesn't get tone. He doesn't get punch lines. He'll say words differently. He's just a dweeb.
Now, Pete Davidson is just focused on his relationship with Ariana Grande, to whom he is recently engaged. The buzzy relationship has hurled Davidson more into the public eye than ever before. Thankfully, he doesn't have to deal with putting on that poof-y orange wig when Saturday Night Live returns this fall.