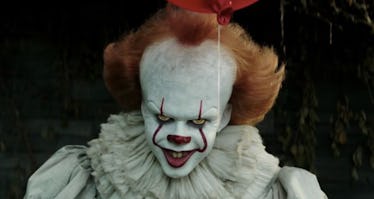 Another Stephen King Horror Movie Is Getting Remade, So Get Ready To Scream
New Line Cinema
Before we begin here, let us all prepare by taking a deep breath and thinking pleasant thoughts. Warm summer beach days. Beyoncé's vocals. Impeachment. Ahhh, doesn't that feel nice? Now that that's out of the way, let me scare the hell out of you and tell you that there is a remake of Stephen King's Pet Sematary on the way and I, for one, am already screaming nope, nope, nope.
2017 has been a crazy year in film, no doubt, and between Jordan Peele's box office smash Get Out, Netflix's adaptation of Gerald's Game, and Andy Muschietti's remake of Stephen King's It, the horror genre has been killing the game (no pun intended) this year.
It looks like this trend isn't ending in 2017, either; indeed, in addition to the already announced and highly anticipated It: Chapter 2, we can officially start looking forward to another adaptation of one of Stephen King's most famous novels hitting theaters in the years to come. According to Deadline, Paramount recently struck a deal with Dennis Widmyer and Kevin Kolsch — the directorial team behind the 2014 thriller Starry Eyes — to bring Pet Sematary back to the big screen for the first time since its debut in 1989 (copyright Taylor Swift).
Pet Sematary is the ooky spooky tale of Louis Creed and his wife Rachel, who move their two children from Chicago to Maine only to find out there is a creepy pet cemetery (gasp) basically in their backyard; apparently, this cemetery is special AF because animals and people buried there can come back to life. (First clowns and now zombies? Oh no, no, no.) The only catch? They come back as sinister versions of their former selves.
The horror of it all begins with the Creed family cat being run over and buried in the "Pet Sematary," which brings him back to life as a very fresh cat with little regard for his owners' safety and even less regard for using the litter box; soon after, though, the attempts to bring things back to life turn to humans and, as I'm sure you can imagine, this does not turn out so well for the Creeds.
Simply put: Just when you thought your It nightmares were over for a while, they go and announce this sh*t.
A Pet Sematary remake has been a popular commodity in Hollywood for years now with big name directors such as Guillermo del Toro interested in the project.
As far back as 2010, 1408 screenwriter Matthew Greenberg was hired to write a script for a potential remake; in 2011, High Tension director Alexander Aja was rumored to be a potential director for the remake; in 2013, 28 Weeks Later director Juan Carlos Fresnadillo was announced as the director, which clearly never worked out; and, just recently, Andy Muschietti, the mastermind behind this year's It, expressed his interest in reimagining Pet Sematary for the 21st century.
Indeed, Muschietti recently told Entertainment Weekly, "My affection for Pet Sematary will go on until I die. I will always dream about the possibility of making a movie," but Dennis Widmyer and Kevin Kolsch obviously beat him to the punch, which I guess we'll have to accept since Muschietti and his sister/creative partner Barbara will have their hands full with It: Chapter Two and an upcoming TV adaptation of the graphic novel Locke & Key they're working on.
Hopefully Widmyer and Kolsch's remake of Pet Sematary will mirror the box office success of the Muschiettis' It, though I'm sure that would mean even more Stephen King adaptations and I'm not sure any of us are ready for that.
Check out the entire Gen Why series and other videos on Facebook and the Bustle app across Apple TV, Roku, and Amazon Fire TV.