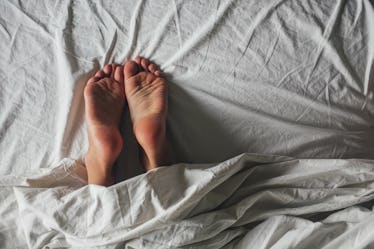 People Who Love Sleeping Run Into These 6 Struggles Every Single Weekend
When you consider sleeping to be one of your top three favorite activities, the weekend can seem like a 48-hour period of endless opportunity. There's more time to sleep in, extra potential for a lovely afternoon nap, and no reason to set an alarm whatsoever. The weekends can be a complete and utter snooze-fest in the absolute best way — but people who love sleeping can run into some serious struggles on the weekend, too. As it turns out, sleeping through your two days off each week isn't all fun and games.
Depending on what your living situation is, and what type of sleeper you are, then your ability to sleep in can either be a total breeze, or a victory you have to actively work for. Plus, you inevitably have to navigate the constant tightrope walk of how to maintain a social life while simultaneously sleeping your life away for two days straight — not to mention the possibility of bed sores (which I'm only half-kidding about, BTW: bed sores are straight-up scary).
Serious sleep-lovers have an entire set of struggles that are exclusive to their own world. They might not get that much pity for their pains, but there might be more obstacles than you would originally think when you're the kind of person who just wants to sleep all weekend long.