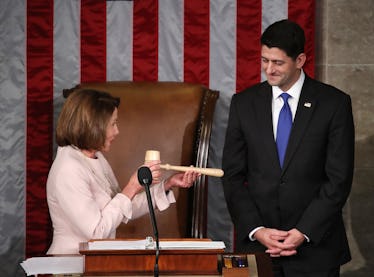 Paul Ryan Isn't Seeking Reelection & TBH People Aren't Mad About It
Mark Wilson/Getty Images News/Getty Images
The most powerful man in Congress is calling it quits. House Speaker Paul Ryan is not seeking reelection during the 2018 midterm elections, according to a report from Axios. The speaker's imminent retirement brings his two-decade run in Congress to a close, with the Wisconsin native having won his first congressional election in 1998, when he was 28 years old.
Without seeking reelection, Paul Ryan's tenure in the House of Representatives would officially end in January 2019. During a press conference on Wednesday morning, April 11, Ryan referred to the speakership as one of the two great honors of his life, but then went on to explain that he was leaving Congress to spend more time with his family.
He said,
The truth is, it's easy for [the job] to take over everything in your life, and you can't just let that happen, because there are other things in life that can be fleeting as well, namely your time as a husband and a dad, which is the other great honor of my life. That's why today I'm announcing that this year will be my last one as a member of the House.
Shortly before the press conference, President Donald Trump reacted to the news of Ryan's decision on Twitter. "Speaker Paul Ryan is a truly good man, and while he will not be seeking re-election, he will leave a legacy of achievement that nobody can question. We are with you Paul!" Trump tweeted.
Paul Ryan became Speaker of the House in 2015, after an uprising among House Republicans all but forced Ryan's predecessor, former Ohio Congressman John Boehner, to retire. When Ryan took over the speakership, it was a widely reported fact that he did not want the position.
During his Wednesday morning press conference, Ryan told reporters, "You all know that I did not seek this job. I took it reluctantly. But I have given this job everything that I have and I have no regrets whatsoever for having accepted this responsibility."
On Twitter, Paul Ryan's retirement prompted scrutiny from figures all across the political spectrum, including a Democratic member of the House.
"Dear House Republicans: Speaker Paul Ryan understands a Dem wave is rolling in this [November]," California Representative Ted Lieu, known to be more active on social media than other Congress members, tweeted on Wednesday. "There's still time for many of you to follow his lead and retire gracefully. Also, it seems many of you don't enjoy enabling a lawless [president] that shows no loyalty to you & the GOP."
Ryan's decision comes four months after Politico reported that the speaker had begun telling people close to him that his current term would be his last.
At the time, Speaker Ryan pushed back against the report. "I'm not going anywhere any time soon," Ryan told ABC's Good Morning America in December. "I'm so focused on getting our agenda done. On questions on way down the line, I'll address those way down the line. But in the meantime, we've a lot of work to do. I'm here to stay, I'm not going anywhere. If something changes down the road in the future, I'll address that down the road in the future."
When host George Stephanopoulos pressed the speaker on whether on whether he would run during the midterms, Ryan replied, "It's not event 2018 yet. So, that's something my wife and I always discuss later in the campaign year."
Now, however, it is 2018, and Paul Ryan has made his decision. The Speaker of the House is retiring from his seat in Congress.