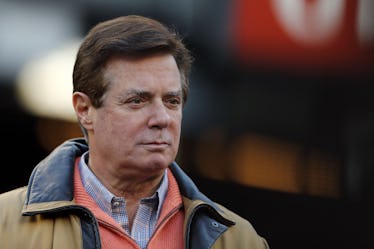 Donald Trump's Ex-Campaign Chair Is Suing Over The Russia Investigation, &, Uh, Good Luck
Elsa/Getty Images Sport/Getty Images
I had high hopes for you, 2018. You were supposed to be different. Calmer, maybe. I don't know why, but my foolish heart expected more. Which is why the first three days of the year have been disappointing, to say the least. Crazy nuclear war threats from the president, a demand that the employee of a political enemy be jailed (also from the president), a personal attack on an old employee (once again from the president). And now: Paul Manafort is suing Robert Mueller over the scope of the Russia investigation. Honest to god, 2018, WTF?
According to The New York Times, earlier on Wednesday, Jan. 3, Manafort, Donald Trump's former campaign chair, filed suit against Mueller, the head of the investigation into possible collusion between Trump's presidential campaign and Russia, alleging that his investigation had overstepped its bounds. Manafort says that Mueller should be limited in what he can and cannot do during his investigation.
The long and short of the suit is this: Manafort claims that the charges that Mueller laid against him on Oct. 27 are outside the scope of Mueller's investigation. Mueller indicted Manafort on money laundering charges that pertain to years-old acts related to lobbying for foreign governments (long before Manafort started working with Trump) as part of his larger investigation into potential collusion between the Trump campaign and Russia. (In the original order assigning Mueller to the investigation, the special counsel was authorized to investigate "any links and/or coordination between the Russian government and individuals associated with the campaign of President Donald Trump.")
Manafort is also suing current Deputy Attorney General (then-acting Attorney General) Rod Rosenstein for appointing Mueller as special counsel and giving him authority to investigate "anything he stumbles across while investigating, no matter how remote." That, Manafort's legal team argues, is strictly against Constitutional norms.
The suit (which you can read in full thanks to NPR) alleges that Rosenstein gave Mueller "almost unbridled prosecutorial authority" which is incompatible with the Constitution and case law — including precedent set by Kenneth Starr's 1998 Clinton investigation. Rather, Mueller's appointment was "an appointment in excess of that limited authority" — especially given that many of the charges on which Manafort was indicted in October include allegations of laundering that go as far back as 2006 — about 10 years before he started working for the Trump campaign.
In other words: Manafort shouldn't have been indicted by Mueller because technically his alleged laundering had nothing to do with the Trump campaign. At least — that's what Manafort is arguing. (And, as the Times points out, this argument is similar to a July comment in which President Trump said Mueller couldn't investigate his family's personal finances as part of the investigation.)
The goal of Manafort's suit is to vacate the charges — and, more importantly, to shrink the scope of Mueller's investigation. Manafort has asked a judge to rule Mueller's appointment as "overly broad" and to "prohibit Mueller from investigating anything beyond Russian meddling in the election."
The move comes during a larger, Republican-led attempt to discredit Mueller's investigation as a political witch hunt.
For months now, Republicans have tried to paint the Mueller investigation as a witch hunt (with the groundwork laid by, who else, President Donald Trump). These attempts have increased considerably since former national security adviser to Trump Michael Flynn was indicted by Mueller in early December for lying to the FBI. Per Newsweek, these tactics have included assertions by former Trump campaign surrogate Newt Gingrich to Fox News that "Mueller is corrupt. The senior FBI is corrupt. The system is corrupt." (Gingrich, it should be noted, lauded Mueller's appointment only months ago.)
Additionally, during public House Judiciary Committee hearings in December, both FBI Director Christopher Wray and Deputy AG Rosenstein (the same person being sued by Manafort) fielded questions about the political nature of the Mueller investigation. Several Republicans asked both men whether or not the investigation is politically motivated and questioned the FBI's impartial reputation.
The Department of Justice, which is also named in Manafort's suit, has called the former Trump employee's lawsuit "frivolous," per NPR.
Personally, I can't see how the argument, "I did these alleged crimes outside of the scope of your investigation" would be a successful way to get out of criminal charges. But, hey, I'm not a lawyer, and 2018 is shaping up to be the type of year where that kind of logic would work. So, we'll see how this plays out.