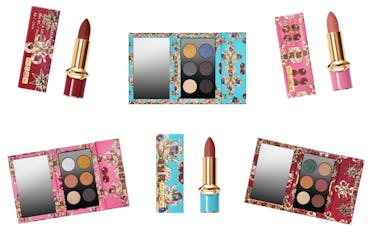 I Peeped Pat McGrath's 2018 Holiday Collection & NGL, I Think It Might've Saved My Life
I've said it before, and I'll say it as many times as I need to until I'm blue in the face: Mother always, always, always knows best. In this case, that Mother is Pat McGrath. And now, the truly legendary makeup artist and entrepreneur has yet another new makeup collection coming out, proving, as always, Mother knew exactly what I needed. Pat McGrath's 2018 Holiday Collection, set to be released on Thursday, Oct. 18, 2018, is a deliciously haute take on what holiday beauty should be: opulent and over the top.
Aptly named "Opulence: The Collection," Pat McGrath's holiday offerings are nothing short of mesmerizing, lavish, and luxurious. Even more, some of the products in the collection offer a fresh spin on McGrath's lust-worthy Labs, the limited edition kits featuring the tools needed to create McGrath-created looks "covertly debuted on the Valentino Mens SS'19 (MTHRSHP Subversive Metalmorphosis), Versace SS'19 (MTHRSHP Sublime Bronze Temptation) and Chloe SS'19 (MTHRSHP Subliminal Dark Star)," according to a press release from the brand.
If you're a true McGrath stan, you'll remember the Metalmorphosis 005 kit, which served up more metallic pigment than you could ever imagine. Then, of course, there was Dark Star 006, a kit that singlehandedly made galactic-inspired glam cool. And, of course, who could forget Pat McGrath's MTHRSHP Sublime: Bronze Ambition palette — a drool-worthy collection of hues fit for a bronze goddess (i.e. everyone). Now, McGrath has reimagined all of these creations for the 2018 holiday season, and you won't be able to keep your hands off any of it.
In addition to the three new palettes, Mother is gifting us her well-loved MatteTrance Lipstick ($38, patmcgrath.com), complete with new holiday packaging to match the palettes. Three lip shades accompany each of the palettes to perfectly complement your lust-worthy eye look.
Dark Star features shades 1995, a "warm light nude," and Guinevere, a "blooded crimson." Bronze Temptation includes Elson, a "blue red," and Omi, a "mid-tone rose." Metalmorphosis features Christy, a "divine beige peach," and Forbidden Love, the "ultimate classic red." And finally, all three holiday moods feature the shade Flesh 3, a delicious "deep rose" that will go with any look you could possibly dream up. Just like the palettes, the special holiday MatteTrance Lipsticks will go on sale at patmcgrath.com on Thursday, Oct. 18.
No, Mother still hasn't stopped there. (Be still my beating heart.) Shortly after the release of the holiday collection, even more lustrous lippies are dropping to water your crops and clear your acne. On Thursday, Oct. 25, Pat McGrath will be releasing a line of eight BlitzTrance Lipsticks, glittering, shiny, full-coverage lipsticks that reflect more light than any jewel could ever. From a yummy red to a fiery fuchsia to a striking gold, the brand promises these lippies will "unleash your inner diva." Naturally, come the 25th, BlitzTrance will be available on patmcgrath.com.
Now, let me give you the tea:
I got to peep this holiday collection for myself, and I can confirm it is every bit as drool-worthy and life-saving as it looks. The colors IRL are truly mesmerizing, and the lippie formulas are just as dreamy as you'd expect from Mother.
Here are several videos taken by me, which all feature me typing captions incoherently because I am so goddamn entranced:
One of Pat McGrath's incredibly talented makeup artists graciously touched up the makeup I was already wearing (which I had naturally sweat right off in the unpredictable NYC weather). She used the Dark Star palette to enhance my already green eyeshadow, and she swiped over my lips with the all-new BlitzTrance lipstick in Blitz Gold (a 24K gold shade with yellow pearl elements). Suddenly, I was a completely new woman, reborn unto the world — no fears, no anxiety, only happiness:
IDEC if I sound like the most dramatic *sshole saying this, but I'm pretty sure Pat McGrath's Holiday Collection saved my life? Just a guess.
Remember, come Oct. 18, you can snag the all-new palettes and the MatteTrance Lipsticks from the holiday collection on patmcgrath.com. Come Oct. 25, your collection will be complete with the release of the BlitzTrance Lipsticks on patmcgrath.com. I'm not saying you absolutely need to snag this entire collection, but I am saying what I said before: Mother always knows best.