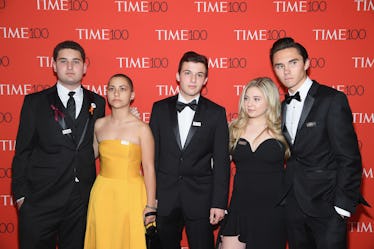 House Democrats Want To Hire Parkland Students To Work On Capitol Hill & It's Awesome
Dimitrios Kambouris/Getty Images Entertainment/Getty Images
It's wild to remember that the shooting that massacred 17 people, and subsequently galvanized a community of young people, took place on Feb. 14 — just four months ago. A handful of the students who survived the shooting in Parkland, Florida, have since become leaders of a movement to end gun violence in America, which culminated on March 24 with the March For Our Lives, a massive public display of support for gun reform legislation. Now, the Parkland students are getting an open invitation to government from Democratic leadership. Parkland students may work with House Democrats on gun violence, and it would be so awesome.
Lawmakers reportedly want to bring Parkland students to Capitol Hill for the summer, for an internship specifically centered on gun reform, according to NBC News.
"We think it would be a great experience for them to be on the Hill to see exactly how things operate — or doesn't, to some degree — but also to have time with these very special young people that have experienced something that none of us ever want to have experienced and I think we can learn from each other," House Democratic Caucus Chairman Joe Crowley told NBC News.
Many of the students have very publicly made names for themselves in fighting for advocacy on this single issue. Survivor David Hogg recently said that he wants to create a version of the National Rifle Association (NRA) in support of the Parkland students' cause, according to the U.K.'s The Guardian newspaper. Their demands? According to the March For Our Lives website, the students would like to make the following changes happen: Mandate universal, comprehensive background checks for purchasing firearms; bring the Bureau of Alcohol, Tobacco, Firearms and Explosives (ATF) into the 21st century with a digitized, searchable database; boost funds for the Center for Disease Control to research the gun violence epidemic in America; legislate a high-capacity and assault weapons ban.
In spite of growing support for the movement, as well as promises from President Donald Trump that there might be bipartisan support for such changes, Congress has not effectuated new legislation to address gun violence. Still, lawmakers think having the Parkland students on hand this summer would help the conversation.
"I would be thrilled if a significant number of them came up here and spent the summer helping to learn the system better so they will be even more effective advocates going forward," Rep. Ted Deutch, who represents the district of Marjory Stoneman Douglas high school, told NBC News. It's an inspiring notion that suggests the Democrats want to groom the young activists to perhaps fill their shoes someday. But many of the Parkland survivors have said that they wish they did not have to devote themselves to such causes — that they wish they could just be "normal" teenagers — but that new shootings happen with a frequency that demands their action.
A mass shooting in Santa Fe, Texas left 10 people dead on May 18, sending survivors back to the day they experienced the same thing back in February.
"I was just in disbelief," Parkland survivor Julia Cordover, 18, told NBC News. "I was, like, this can't be happening again. I couldn't tell if other people were seeing what I was seeing."
Jeff Foster, who teaches an AP government class at the Parkland high school, opted to turn on the news for his students as news of the Texas shooting was breaking.
"The students all seemed to be in disbelief and angry," Foster told NBC News. "Watching them, you could see, looking into the kids' eyes, you could see them remembering when they had cameras in their own faces three months ago."
It will be interesting to track the paths of some of these Parkland students — several of whom made the Time list of the 100 most influential people of 2018 — as they develop into adults who are passionate about effectuating change. Hogg, for example, continues to berate the NRA and its financial backers on Twitter, while organizing protests to shame organizations that refuse to part with the NRA.
Many of the Parkland students, however, including Hogg, have kept a lower-profile in recent weeks.
"It was prom," Hogg explained to The Guardian. "I'm still in high school – you only get to go to prom once, [and] I was going to do that with my friends. Because I still can. I was lucky enough to survive."