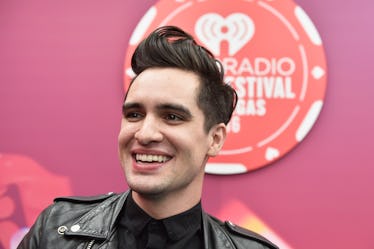 Panic! At The Disco's Brendon Urie Came Out As Pansexual In The Most Casual Way
David Becker/Getty Images Entertainment/Getty Images
Panic! At The Disco's frontman has opened the god d*mn door on his sexuality. In a recent interview with Paper magazine, Panic! At The Disco lead singer Brendon Urie came out as pansexual. The 31-year-old musician spoke about not only his sexuality, but his career with Panic!, growing up Mormon, and the #MeToo movement, among other things.
Urie, who's been married to Sarah Orzechowski since 2013, told Paper,
"I'm married to a woman and I'm very much in love with her but I'm not opposed to a man because to me, I like a person. Yeah I guess you could qualify me as pansexual because I really don't care. If a person is great, then a person is great. I just like good people, if your heart's in the right place. I'm definitely attracted to men. It's just people that I am attracted to."
Urie has been a long-time advocate for equality and abolishing typical gender norms. The Panic! song "Girls, Girls, Boys," which was originally about Urie's first threesome at 16 years old, took on a new meaning when the LGBTQ community took it as a revelation that Urie himself didn't identify as straight.
"That song was about my first threesome but they made it about coming out and accepting who you are as a person, which I thought, what a way better message," Urie told Paper. "Taking this thing that I wrote about and then changing it to be more inspiring for your own purposes, what a beautiful idea."
In late June, Urie announced a partnership between Panic!'s Highest Hopes Foundation and the Gay, Lesbian and Straight Education Network (GLSEN) to donate $1 million to help create gay-straight alliance clubs (which serve as safe spaces for members of the LGBTQ community) in schools across America.
According to People magazine, Urie said in a statement that the partnership "feels natural to the DNA of P!ATD."
"Some of the most inspiring leaders out there right now have come from GSAs (gay-straight alliances). Working firsthand with GLSEN, student leaders everywhere, and all my fans, I want to make sure that every one of our future leaders out there has the support they need to form their own GSA and begin their work to make a better world."
Being honest with himself about his sexuality was never something that made Urie feel uncomfortable, he told Paper, saying, "It was never really weird for me. I know that it made a few people uncomfortable, when somebody gets uncomfortable about me doing what I used to call 'stage gay.' It kind of presses me to want to do it more." He defined "stage gay" as the sort of things he'd do on stage that would bend typical gender norms.
"For our first headline tour I would go up to Ryan our guitar player, and like hiss him on the neck or kiss him on the mouth and he would be so mad. I was like, 'I just want to kiss you bro.' I would hang out with friends and after five or six beers we're just kind of like smooching on each other. People just get hammered and fool around."
He also told Paper about his first experience at at gay bar when he was 17 years old. It was the first time he'd ever been to a bar in general. "I remember just being hit on all night and it was awesome," he said. "I was getting drinks all night. These guys would just come up and I was like, 'I'm flattered but I'm not interested but thank you.' They were like, 'We'll get you interested sweetheart.' I was just like, This is dope."
Panic!'s sixth album, Pray For The Wicked, was released on June 22. Urie is the last remaining member of the band, which, in his interview with Paper, he calls "my little play thing, and I get to do more than I used to feel like I could." It definitely looks like he's using his independence to do good by his fans and supporters, and of course, to be more honest about himself than ever before. Hell yes to embracing who you are, and hell yes to Brendon Urie. I can't wait to see what he does next.
Check out the "Best of Elite Daily" stream in the Bustle App for more stories just like this!