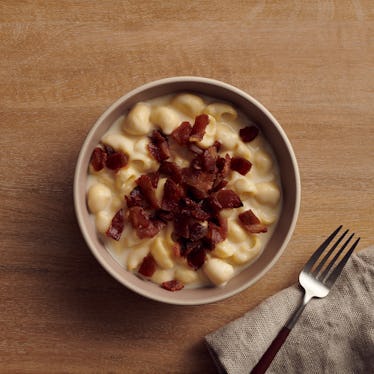 Panera's New Bacon Mac & Cheese Is Here & It's A Total Upgrade To The Menu
Panera
With summer just around the corner, glow-up season is finally upon us. "Glow-up season," if you're not already familiar with the term, essentially refers to those first few weeks of summer when everyone seems to be living their very best lives. The beach is totally packed, offices are practically empty due to lots of happy vacationers, and almost everyone is outside enjoying the sunshine... all before being "so done" with the heat, of course. But this year, it looks like glow-up season is getting real cheesy, because Panera is delivering Bacon Mac & Cheese for a limited time. As you could probably imagine, I am elated.
Don't get me wrong: Panera is the same sandwich haven we've all come to know and love over these last few years. But, let's be real: They've just undergone the makeover of a lifetime, and I am so happy about it. According to a press release, Panera is releasing their Bacon Mac & Cheese on Wednesday, June 6, and it'll will be available exclusively for delivery until June 20. In all honesty, it's the best news I've yet to hear all year long — but since it's only around for a limited time, get your hands on some ASAP. Your stomach will definitely thank you. Your wallet? Well, not so much. But that's OK, because #YOLO.
Let's take a gander at this Bacon Mac & Cheese, shall we? Just look at that warm, gooey cheese mixed with that salty, crunchy bacon. Can you bear to resist that any longer? I certainly can't.
According to the press release, Panera's new Bacon Mac consists of their classic, creamy Mac & Cheese, which is sprinkled with a hefty handful of crispy bacon bits. TBH, it sounds like the meal of the year, the side dish of a lifetime, and the swimming pool of my freaking dreams. The best part is that you don't need to leave your apartment, office, or even your bed to go and get it — because it's only available for delivery.
In a press release, Panera's CEO, Blaine Hurst, says that Panera Mac & Cheese is incredibly iconic (which nobody can deny), so why not add a little more decadence? There's truly nothing better between gorgeous additions of bacon, as well as the ability to enjoy it in the comfort of your own home. It sounds like a dream come true.
In a press release, Hurst said,
Panera delivery gives our guests the option of enjoying our craveable indulgences right in their own home or workplace. Mac & Cheese is a classic at Panera – an iconic menu item people continue to celebrate. We think bacon makes it even better. For us, there is no better way to extend our Panera warmth from the cafe to the home or office than by combining the two for delivery.
The release of this meaty mac is in honor of the fact that Panera recently launched nationwide delivery. Per the press release, their Bacon Mac & Cheese will be available in 43 states, and customers can simply order it on the website, or even through the Panera app. This is about to take over my order history, entirely.
Panera has always been at the top of my list, my number one, and my ride-or-die — but it's seriously stepping up its game with this Bacon Mac & Cheese. Hopefully my rogue mac purchases will encourage Panera to keep it as a permanent menu item, but for now, let's just enjoy it while it lasts. Like the not-yet-hot weather and vacation time, Panera's Bacon Mac & Cheese is definitely something to be savored, bite for bite.