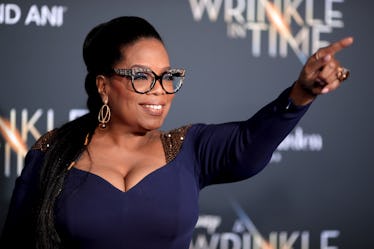 Oprah's Down To Be In A 'Ocean's 8' Sequel, So Catch Me Camping Outside The Movie Theater
Christopher Polk/Getty Images Entertainment/Getty Images
Ocean's 8 managed to call together some of Hollywood's most prestigious and beloved ladies for its fierce cast, but there's always room for more, and I'm sure that the A-list cast would agree with me about that. Some of its stars, such as Sandra Bullock and Sarah Paulson, have already pitched their casting ideas for a sequel, but one of the greatest voices of all has volunteered herself for a followup film. Oprah Winfrey's ready to star in an Ocean's 8 sequel, and I'm ready to preorder these hypothetical Ocean's 9 tickets now.
While promoting her new OWN TV series, Love Is _, Oprah shared that she's more than willing to join the infamous heisting crew next time around, saying:
I'm in! I'm in, ladies. Isn't it like the biggest Ocean's ever with all of them combined? Hello? Me too! Me too!
I don't think any of the original cast members would complain about sharing screen time with Oprah, especially because Oprah has already worked on a movie with one of the actresses before. She and Mindy Kaling, who played jewelry maker Amita in Ocean's 8, recently starred together in the Disney adaption of A Wrinkle in Time. If there's anything that the Wrinkle in Time press tour taught me, it's that Oprah, Kaling, and Reese Witherspoon are an undeniable power trio.
Although Oprah has appeared in a TV movie recently, her A Wrinkle in Time role was the first time since 2014's Selma that she appeared onscreen in a film with a theatrical release. A scroll through her acting résumé proves that she values telling stories about women and African-Americans. Adding her to the group of Ocean's 8 women would only emphasize her commitment to those portrayals.
Oprah has even played a part in providing Kaling with a mostly female-helmed movie career. When speaking to Parade, Kaling said of her acting experiences:
I don't remember what it's like to act with men anymore! Between Reese [Witherspoon], Oprah [Winfrey], Sandra [Bullock], Cate Blanchett, Rihanna and Helena Bonham Carter, I've made my entire movie career without acting with men. Acting with powerful Oscar-winning actresses is a very fun gig.
Now that Oprah has thrown her casting pitch out there, it wouldn't be surprising if we see some quick clarification about the possibility of this sequel. But if things don't pan out for Oprah's involvement, the Ocean's 8 women have other suggestions for who could be a special addition for another film.
When speaking to USA Today, Bullock, Paulson, and Cate Blanchett listed their dream Ocean's 9 co-stars as Charo, Emma Thompson, and Jane Fonda. If you're going to add somebody for a new film, they might as well be a legend, right?
I'm still fixated on a movie set with Oprah doling out life advice over tea, but according to Bullock, the female-dominated Ocean's 8 set naturally allowed for women to have regular heart-to-heart talks. She told USA Today:
For many years, there was a natural separation of the women in this business, whether we brought it on ourselves or whether it was thinking there's only one job for 7,000 women... I found myself very educated by this film and very empowered. I feel like I was given kernels of knowledge (by my co-stars) that I was like, 'Wow, even at this point in my life, I'm still learning how to understand and navigate my career.'
I mean, that just sounds like an Oprah episode in the making.
We could debate all day long about the best casting choices for an Ocean's 8 sequel, but for now, just seeing how fun this movie is will suffice. But, TBH, I'm still keeping an eye on Oprah's filmography for any news.