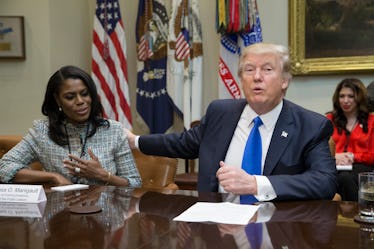 A Trump Aide Reportedly Did Her Bridal Photos In The White House, & People Are Pissed
Pool/Getty Images News/Getty Images
You've heard of a bridezilla, but a bridezilla with a security clearance is a whole other wedding catastrophe. Omarosa Manigault was known for rubbing just about everyone wrong on The Apprentice, and made good on that reputation when she brought her wedding party into the West Wing to take pictures in April, according to a report in Politico. As unbelievable as it sounds, this Trump aide did her bridal photos in the White House, according to reports, and everyone is pissed.
A Nov. 7 report in Politico details a weekend in early April when the reality-TV-star-turned-senior-official reportedly brought members of her bridal party into the Rose Garden and West Wing to take pictures. According to four current and former anonymous officials in the report, Manigault's company "loudly" wandered their way through the building, in an incident that caused chatter in the White House for weeks.
It's unclear if Manigault secured permission for the shoot, but (sadly) any photos never saw the light of day. Manigault was banned from posting any of the images due to ethical and security concerns, according to the report. Elite Daily reached out to the White House for comment, but did not immediately hear back.
Manigault got married to Pastor John Allen Newman on April 8 at the Trump International Hotel, according to E! News. Their vows included a quip about standing by each other "for richer and for richer," which seems about right for an aide to President Donald Trump.
The wedding shenanigans didn't stop there. Apparently Manigault had 39 people in her bridal party, according to the Politico story. Even minus the surprise White House photo shoot, a bridal party of that size is a fresh hell onto itself.
The brazenness of Manigault's reported move stirred Twitter users up, and underscored the disorganization of the White House.
Some were quick to point out that taking your bridal party into, you know, the epicenter of the U.S. government was a pretty big perk and perhaps not the wisest decision.
While reports of Manigault's move to use the White House as an ideal photo op spot seems unsavory on its own, it's also indicative of disorder in the White House. According to Politico, a former senior aide told the publication that 1600 Pennsylvania Ave. was a "dumpster fire place to work" in the beginning of the Trump administration.
"It's pretty safe to say the early months were not as smooth as they could have been," Sarah Huckabee Sanders, the Trump administration's press secretary, told the publication about Manigault's office.
It's pretty safe to say that parading wedding guests past security into the West Wing is a pretty big lapse in management.
Manigault rose from a despised archetype on The Apprentice to the director of communications for the Office of the Public Liaison after campaigning for Trump in 2016. According to Politico, the office that Manigault leads serves the purpose of working with different groups, such as veterans and religious organizations, to generate support for the president's agenda.
The supposed bridal shoot isn't Manigault's first misstep, either. In July she was booed at a National Association of Black Journalists panel on police brutality for her support of the president, who has made controversial comments about law enforcement. She also generated controversy on invitations for the Congressional Black Caucus to meet with President Trump when she signed them the "Honorable Omarosa Manigault," according to Politico. Members of the administration have praised her for helping the campaign reach African Americans, but it's hard for some to believe her efforts are sincere, given that she has worked on the behalf of a president who's traded in racist rhetoric and xenophobia.
In September, a number of media outlets reported that her days in the White House were numbered, but over a decade after she made a mark on Trump's NBC show, Manigault is still said to be in the president's inner circle. So much for Chief of Staff John Kelly's efforts to manage the flow of information to the president.
As of Nov. 7, Manigault had yet to respond to the story herself. But given her embrace of playing the part of the villain, it doesn't seem like Manigault will apologize anytime soon.