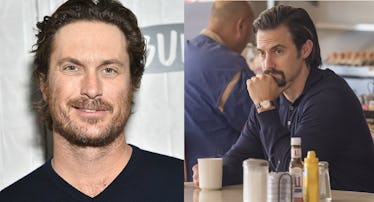 Oliver Hudson Turned Down An Audition For Jack On 'This Is Us' For An Absurd Reason
NBC / Mike Coppola/Getty Images Entertainment/Getty Images
You win some, you lose some — but not landing a starring gig on a hit network drama sounds like kind of a major loss. It's hard to imagine anyone other than Milo Ventimiglia playing Pearson patriarch Jack, but Oliver Hudson turned down a This Is Us audition for the part after his successful first read, and for a very fishy reason. Hudson admitted he chose a fishing trip over continuing to go for the now-beloved role, if you can believe it. The Splitting Up Together actor explained how the missed opportunity came to be on the May 15th episode of The Ladygang Podcast. Turns out, the man just really enjoys going fishing.
"I went in and read, and it went very well and they wanted me to come and do a chemistry read with Mandy Moore, but this will tell you how much I love to fish," Hudson explained. He went on:
I had a 10-day fishing trip planned. It's my life. Fishing is a big part of my life and it was this 10-day fishing trip and my agent says, 'We gotta test, and they really like you, and this, this and that.' And I said, 'Ooh. I'm supposed to go on a fishing trip'… And he's like, 'OK, yeah…so? I mean this is a big thing.' And I said, 'You know what? I'm going to do my fishing trip, so...
Oliver went on to clarify that he ended up making a test deal which used his audition tape from the room as a backup, but we all know now how everything played out. Hudson admitted that he like the script and thought it was "very well written."
I can't be mad at Milo for swooping in on the Jack Pearson role since he's pretty much perfect for it — occasional goatee and all — but I can't help but wonder could have been...
If you made it through the Dawson's college years, you probably know Hudson from his days as Joey's mysterious literature-loving on-again-off-again boyfriend Eddie Doling. Hudson has worked steadily on TV over the years and is best known for his work on Dawson's Creek, Nashville, Rules of Engagement, and Scream Queens. After passing on pursuing This Is Us, he ended up getting a leading role on ABC's romantic sitcom Splitting Up Together. Hudson stars alongside Office alum Jenna Fischer in the hit — they play ex-spouses trying to cohabitate and co-parent while dealing with their divorce.
Hudson is also quite entertaining on Instagram — I urge you not miss out on his videos, stories, and throwback pics.
Hudson also caused quite the stir while promoting Splitting Up Together when he hilariously trolled Office fans by stating he was #TheNewJim, referring to Fischer's former beloved on-screen hubby, who was played by John Krasinski.
"I tweeted something about the show and I tweeted out a clip and then there were a lot of responses like, "He's not Jim!" Fischer explained to Ellen of the fan reaction to seeing her with a new love interest outside of the Dunder Mifflin universe. Maybe a hashtag like #TheNewJim isn't exactly the way to win haters over, but Hudson is clearly doing all he can to make audiences believe in the relationship.
Viewers are clearly into Jenna and Oliver's chemistry — Splitting Up Together was just picked up for Season 2. Phew. Now Hudson doesn't have to regret choosing a hobby over a potential career-changing audition. Turns out it all worked out in TV world and now there are two network shows with charming lead actors to tune into.