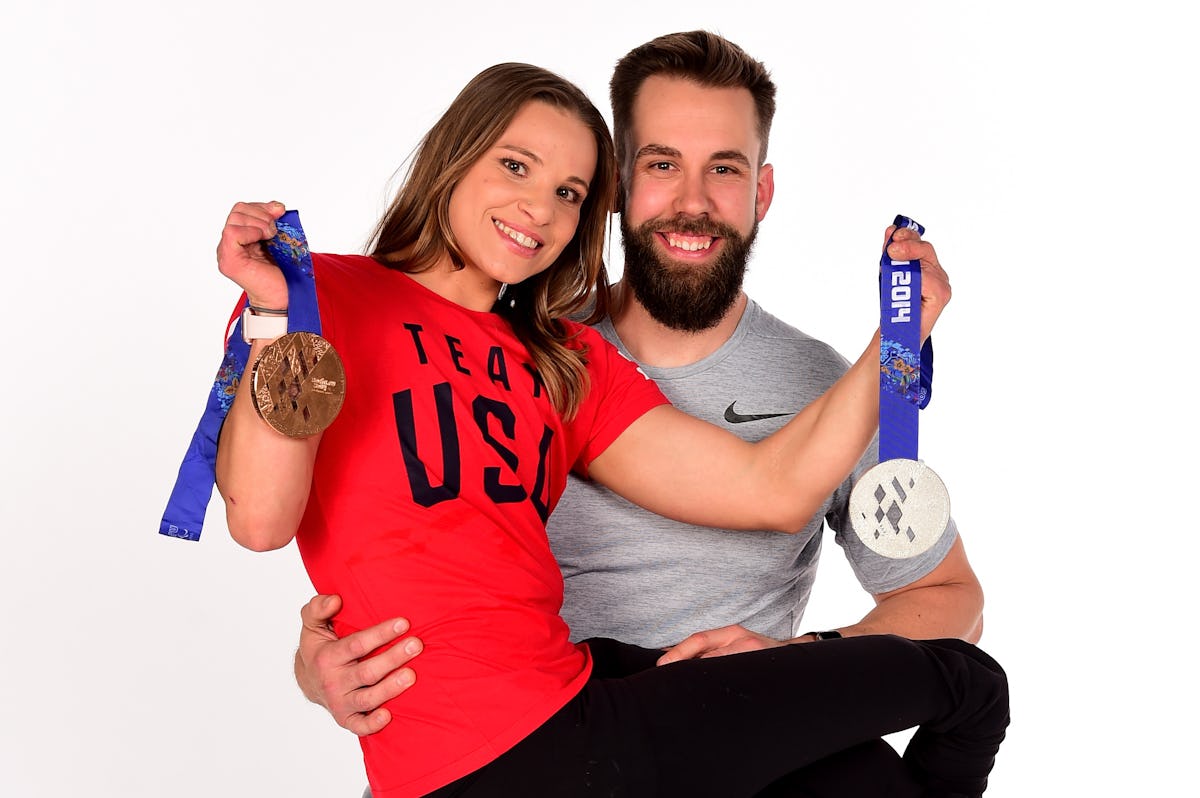 These Paralympians' Love Story Shows Us You Really Can Do It All
Harry How/Getty Images Sport/Getty Images
Oksana Masters and Aaron Pike are many things. Most notably, they are three-time Paralympians currently preparing for PyeongChang 2018. They are also Nordic skiers, avid coffee drinkers, and Masters and Pike happen to be dating.
"You have your best friend, your partner, and then you have your training buddy," Pike tells me in an interview for Elite Daily. "You both hold each other accountable. You kind of rub off on each other, and motivate each other in different ways."
As I sat at my desk, crossing my fingers that our scheduled Skype call would connect — the pair is currently at a training camp with little internet service — I reviewed my notes. I marveled at Masters' and Pike's ability to maintain a romantic relationship while accomplishing so much in the world of adaptive sports. (I can't even manage a relationship sans the pressure of competing in a world class athletic event.)
28-year-old Masters, a three-sport athlete, was born in Ukraine, where both of her legs were damaged in-utero from radiation poisoning due to the Chernobyl incident. She was adopted at age seven, began rowing at age 13, and brought home a bronze medal from her first appearance on Team USA at the Paralympic Games London 2012. In 2014, she earned bronze and silver medals in Nordic skiing from Sochi, and has been nominated for two ESPYs.
Pike, 31, learned about adaptive sports after suffering a T-11 spinal cord injury from a hunting accident when he was 13. Pike's first Paralympic games appearance was in London 2012, where he competed in wheelchair track and field. Pike started training in Nordic skiing after the London games, and in his debut season on the U.S. Paralympics Nordic Skiing National Team, he finished in the top 15 three times in the world cup competition, before heading to Sochi.
As our Skype call connected, I was greeted by two warm voices. I could immediately detect their sweet chemistry. My first (albeit millennial) impulse was to ask the pair how they met, as I had always heard juicy rumors of Olympic village hookups and free condom stations. Was this an instance of a hookup turned happy ever after?
Masters admits, "That's definitely going on for sure. I'm sure there are walk of shames going on, from one athlete house to another" — but that's not her and Pike's story. The pair began their relationship as teammates and friends at a training camp leading up to the Sochi games. "Aaron has a funny way of showing that he likes someone too, like I would ski by and he would just start to push my arm or push me down, tiny little things," says Masters. (Adorable.)
Prior to speaking with the couple, I imagined dating someone while training morning, noon, and night for the Paralympic Games would be virtually impossible. However, Pike explains "It's almost easier that we're both doing something similar. You know what each other's going through."
Masters says that athletes dating non-athletes can be more difficult, "It's hard to understand the athlete's lifestyle. You literally eat, sleep, train. You go to training camps in the winter where there is no internet, you can't make phone calls." While the pair sees each other often during the winter, in the summer, they are on different schedules. "But I'm not like 'Why aren't you answering my texts? Why are you ignoring me? What's going on?'" Masters adds. "I get it."
Another perk of competing on the same team as your SO? "I don't think too many people get to say that they've walked in together, representing their country at the Opening Ceremony," notes Pike. "You look over, and there's your significant other, standing right there experiencing the exact same thing [as you]. That's a pretty cool, unique thing." Again, I can't imagine walking into the Opening Ceremony stadium, let alone doing it with a person I love.
Masters did note that there is sometimes public confusion around what the Paralympics are. The Paralympic Games are held at the same venue as the Olympics and utilize the exact same Olympic Village. "I didn't find out I could compete in the Paralympics until I was 16, and to be in the same village where some of your idols competed is a really cool thing," says Masters. The Paralympics take place just after the Olympics, so "you get to see it happen before you jump in yourself," adds Pike. "You get fired up."
But in terms of misconceptions about their relationship? Masters and Pike say they haven't spent that much time thinking about what two Paralympians dating looks like to an outsider. "It's no different," says Masters. "You know, 'love is love'. I love Aaron for who he is and how he makes me laugh." And on that note, I have officially found my new #relationshipgoals.
You can cheer on Masters, Pike, and the rest of Team USA when the PyeongChang Paralympic Games begin on March 9.
Learn more at Teamusa.org. The Winter Olympics begin Feb. 8.