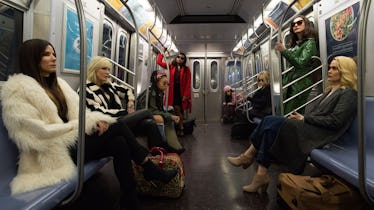 Fans Shouldn't Hold Their Breath For Danny Ocean In 'Ocean's 8' For This Reason
Warner Bros. Pictures
Blame it on our Marvel-molded minds, but nowadays we're definitely a little programmed to expect a post-credit scene in epic action-adventure movies. How else is a film supposed to hint about a sequel? As much as I love the sneakiness of a post-credit treat, it looks like the art form is limited to Marvel superhero flicks for now. Ocean's 8 doesn't have a post-credit scene, so any chance of a surprise Danny Ocean appearance is definitely crushed until a possible sequel is confirmed.
Perhaps confirming that its incredible lineup of talented actresses is enough to keep audiences intrigued until the end, Ocean's 8 lets its story conclude before the credits. While there's no sign of Ocean's 8 spinning off into an endless summer franchise a la the Avengers flicks, there's always room for more in Hollywood. The fact that Ocean's 8's main character is the sister of the original Ocean's trilogy's hero only convinces me more that a dysfunctional family reunion could be at the root of a potential sequel. Although the new film didn't have a cryptic post-credit scene, it certainly ended with a mysterious tease about a future storyline.
In a blink-and-you-missed-it moment in one of the film's first trailers, Debbie Ocean (Sandra Bullock) is seen kneeling by her brother Danny's gravestone. When watching the film, audiences spot enough of the stone to read that Danny, played by George Clooney in the original films, supposedly died in 2018. However, amidst the craziness of Debbie's heist adventure with her lady gang, she neglects to mention how her brother died. Do I perhaps sense a faked death?
Viewers used to blockbusters' outlandish twists might have suspected that the ambiguity about Danny's death would lead to a shocking cameo in the ending or post-credit scene. This prediction wasn't the case, and any hopes about the briefest of appearances from other Ocean's Eleven actors also fell flat. Although he admitted that he had filmed a cameo for the movie, Matt Damon as Linus Caldwell was nowhere to be found. Elliot Gould and Shaobo Qin briefly appeared in their old Ocean's Eleven roles, but Ocean's 8 made it clear that its women were its true focal point, as they should be.
Thanks to certain actions of Debbie's at the gravestone in the film's conclusion, Ocean's 8 definitely put a curious amount of emphasis on Danny's absence. As Debbie spent the last five years in jail, it's not like she has the closest relationship with her brother, but the film's efforts to establish their connection was mysterious enough for me to wonder about the family unit. We might not have seen Danny in Ocean's 8, but could the little details focusing on him mean that his surprise return is meant for a sequel film?
Seeing as Ocean's 8 literally just hit theaters, there's no word of a followup film yet, but the cast seem game for the possibility. In an interview with USA Today, Bullock and Sarah Paulson listed Emma Thompson and Jane Fonda as women they'd love to see in a sequel, and I'm definitely onboard with that dream casting.
Ocean's 8 also isn't a direct sequel of the past trilogy, so as much as some of us would like to see Clooney onscreen, his appearance certainly isn't an obligation. As Bullock explained last December, Ocean's 8 is a "parallel" of Ocean's Eleven rather than a continuation, telling CinemaBlend:
We're not a reboot. We're just a 'this is what's happening in 2017.' It's not even a passing of the torch. It's a parallel story of another family member that was raised in the same family Danny Ocean was and what happens when Debbie steps out of jail with all of these amazing, powerful women.
For now, it looks like I'm limited to dreamy shots of Clooney with Amal for my Danny Ocean exposure. I definitely don't mind this, but count me in as a fan still holding her breath for future Danny appearances in any Ocean's 8 sequels.