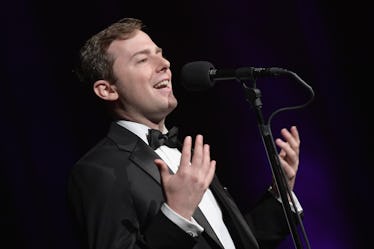 Former Obama Speechwriter Says It's "Worrisome" That Trump Can't Tell Jokes — EXCLUSIVE
Ben Gabbe/Getty Images Entertainment/Getty Images
President Donald Trump can tell a joke about as well as he can take one. Like many aspects of his presidency, this stands in stark contrast to former President Barack Obama's prowess, which was arguably best on display during the 2015 White House Correspondents' Dinner when Keegan-Michael Key joined him onstage as Luther, his "anger translator." This moment was made thanks to David Litt, and according to Litt, one of Obama's speechwriters, Trump's sense of humor is indicative of his overall inability to serve as a decent President of the United States.
I spoke with Litt for an interview with Elite Daily following the publication of his book Thanks, Obama: My Hopey, Change White House Years, which is officially a New York Times bestseller. Litt, who is now the head writer for Funny Or Die's D.C. office, started his career at the White House at just 24 years old, and he served as one of the president's speechwriters, specializing in those spectacular White House Correspondents' Dinner addresses.
"It was this extraordinary experience where I got to work for the person who inspired me to get into politics in the first place," he says. "It doesn't get much better than that."
Now, however, Litt joins a large swathe of the country looking on at the antics of Trump as president, and he says Trump's sense of humor is "worrisome" — and it's actually very serious.
Litt explains,
When he tells what is his equivalent of a joke — because he does have a sense of timing, he was an entertainer for most of his life — the goal is almost never to make people enjoy what he's saying, the goal is to establish dominance over someone who has less power than he does. You don't have to be funny to be president, but to be a good president you need to be able to notice and respect everybody, not just powerful people, and if you look at Trump's sense of humor (or lack thereof), it's an indicator that he can't do that.
Litt adds that he "would've quit a long time ago" if he ended up with a job in the Trump White House, saying that "in public service there are lines that you can't cross without becoming complicit. I think, if you're working for this White House, you've already crossed those lines."
For Litt, what Trump is doing worries him more than Trump's wacky oration. That concern comes from his experience under Obama. From watching Obama, he explains, he learned that qualities like staying focused, keeping your temper under control, and recognizing "that even though you're the most powerful person on Earth, you're also only human," are important for a president. He says,
What scares me is Trump possesses none of the qualities that, from my experience at the White House, make a president good at their job. And that has nothing to do with political party. When a crisis hits, you need a president who can handle the responsibilities of the office. Both in terms of what Trump says — but more importantly in terms of what Trump does — I think we've seen that he is not up to the task.
Obama, on the other hand, "has a great sense of comic timing" and "a great sense of humor to begin with," Litt says.
He first met Obama when he was 25 years old, and he says he "literally blacked out" when the president asked how it's going because he was "so scared of saying the wrong thing.
Litt found Obama to be mostly similar to what we see on the outside. He says,
A person's public and private persona are not always identical, but they're usually related. The reason that President Obama seems thoughtful and clever and inspiring in speeches is because, at least in my interactions with him, he's that way in person, too.
In a given year, a team of eight to 12 writers would pitch jokes for Obama to use in speeches, coming up with about 600 per year. They'd whittle it down to the best to present to the president, with about 35 ending up pitched to him. At least once, this included a d*ck joke. You'll have to read the book to see it.
Although things are strange now, Litt still has hope for democracy.
He wrote his book in part to show young people the realities of landing your "dream job" (and in part because he wanted to tell stories about times he embarrassed himself in front of Obama.
"It didn't always feel special every single day, but I thought it was important to recognize that dream jobs don't always feel dreamy," Litt says. It's often just a lot of stress and hard work, but it's worth it in the end if you believe in what you're doing and are able to make meaningful change — and he hopes that's a message young people take to heart to get involved in politics today.
If you're interested in politics, Litt says, join a campaign, which is "more meritocratic and gives you more opportunities to prove yourself." But you also need to find a candidate you believe in.
"You're going to be overworked and underpaid," he says. "You want to be doing something where, despite those things, you still wake up every day and think, 'Man, I can't think of a better job than this.'"
Even if politics isn't something you're interested in, Litt believes you should be trying to do something. He says,
This is one of those rare moments where, unfortunately, in a lot of real ways, American democracy is hanging in the balance. Not everybody needs to run for office or work on a political campaign, but more of us do, and all of us need to think as citizens how do we do our job, which is protect this democracy and not take it for granted. No matter what you're doing for a living, that's a question that all of us need to be asking ourselves right now.