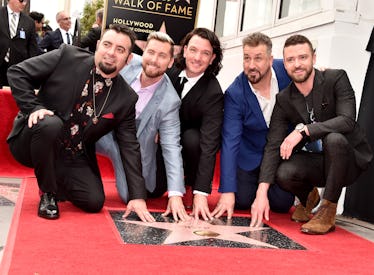 *NSYNC Just Had The Most Epic Reunion & The Photos Will Bring You Back To The '90s
Alberto E. Rodriguez/Getty Images Entertainment/Getty Images
It's time to get in touch with your inner fangirl because *NSYNC just reunited for the first time in a while! The famous boy band came together to accept one of the top honors Hollywood has to offer: a star on the Walk of Fame. Yep, you read that right! *NSYNC got a Hollywood Walk of Fame star and they honestly couldn't be more deserving.
It's been 20 years since *NSYNC hit the scene with their pop smash "I Want You Back" and they've seen plenty of ups and downs since then. From feuding with the Backstreet Boys to performing at the Super Bowl, these guys have definitely been around the block a few times. But it hasn't stopped them from remembering where they came from and just how they got to the Walk of Fame.
All five members of the group attended the ceremony. Timberlake, Joey Fatone, JC Chasez, Lance Bass, and Chris Kirkpatrick were all smiles as they were inducted to the Walk of Fame.
It's got to be a huge deal to work so hard for so long and finally get recognized for your contributions to the industry. Amazing!
Actually, each of the guys took to the podium to say something special to their family, friends, and fans. Timberlake made an impassioned speech that was super emotional:
Our moms and dads have really been there — y'all are the MVP. They're the reason that we were able to be where we were in the world and specifically for my mom, for the first couple of years that we were touring the world, I was a minor, which sounds crazy! And she was there every step of the way, so Mom, thank you so much. And now to my beautiful wife, who's here today and who's now the mother of our beautiful son, I love you so much.
So sweet and heartfelt!
Kirkpatrick also gave a speech, paying tribute to his family and his little son Nash:
For all of our families, you guys were there the whole way and you remember the whole crazy ride and now we have a star, which is really cool. Mom, you're the best. My sisters, my amazing wife and my little son, Nash, right there. It's funny to look at him and he's looking up at me like he has no idea why everyone's going crazy right now. Nash, you got some of the best uncles on the planet right here if you ever got any problems.
It looks as though the guys of *NSYNC are still as tight as they were when they were on the rise to fame. Love it!
See the ceremony for yourself:
Believe it or not, talk show host Ellen DeGeneres was also there to pay the guys some compliments. As expected, she dropped a bit of good-natured humor:
*NSYNC of course is short for kitchen sin. Of course, the band is made up of the cute one, the bad boy, the sensitive one, the sexy one … and Joey.
For the record, Fatone has always been the one with a huge sense of humor, so he definitely had an identity of his own within the group!
Speaking of the group as a whole, Bass revealed to ET on April 22 that he and the rest of the *NSYNC guys are always in touch and that the Hollywood Walk of Fame recognition came as a surprise:
It's silly really. We talk pretty much daily, so we're always joking around, so this is just one of those weird events where we're like, 'Really? How did we get here? This is so weird!' Our whole career we felt like we didn't deserve anything.
That's a really modest approach to take to something as big as getting a star on the Walk of Fame. They've been immortalized along some of the biggest names in entertainment history. It's definitely a big deal!