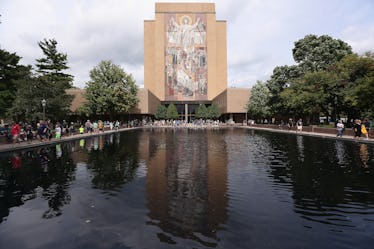 Notre Dame Is Dropping Birth Control Coverage & Students Are Fed Up
Jonathan Daniel/Getty Images Sport/Getty Images
On Friday, Oct. 27, the University of Notre Dame announced birth control won't be covered for students or employees after the end of this plan year. For students, that's after Aug. 14, 2018, and for staff, that's Dec. 31, 2017. This announcement came three weeks after the administration of Donald Trump rolled back a birth control coverage protection rule from the Obama-administration, allowing companies to choose not to cover contraceptives in insurance plans by citing religious or moral objections. Now, the Americans United for Separation of Church and State (AU) and the National Women's Law Center (NWLC) are suing the Trump administration over birth control access, and three Notre Dame students are at the center of that fight.
UPDATE: Aetna Student Health announced on Tuesday, Nov. 7, that they would continue providing birth control coverage for students through the Meritain Health subsidiary, despite the university's decision.
EARLIER: "As women, we reach a breaking point at which point we realize some other entity [like a university] really does care about what we do with our bodies in a deeply intrusive way," 26-year-old political science doctoral student Mary Shiraef tells me in an interview for Elite Daily. This policy change was Shiraef's breaking point, and it's why she chose to join the lawsuit. While the other two students decided to remain anonymous in filing the lawsuit, Shiraef "personally didn't feel comfortable not saying 'I use birth control to prevent pregnancy,'" and it's this effort to lessen stigma that led her to come forward publicly.
"[Birth control is] important, intimately, to me, to my career; it's important so I can work equitably to my male colleagues towards my degree. It's been hugely beneficial to my health; it directly remedied some of the major issues I had with irritable bowel syndrome, which only doubles the impact of all the other benefits we already know about contraceptives," Shiraef explains. Benefits of contraceptives, in addition to preventing pregnancy, including helping with cramps, making periods more regular and lighter, easing PMS symptoms including premenstrual dysphoric disorder (PMDD), and easing symptoms of endometriosis and polycystic ovary syndrome (PCOS).
The Catholic institution of Notre Dame has had a complicated history with contraceptive access, linked to its religious standing, which mirrors what's happening on a national level. As part of the Affordable Care Act (ACA, aka Obamacare), contraceptives had to be covered by insurance policies. However, the 2014 Hobby Lobby Supreme Court case allowed for corporations to use religious objections to get out of covering contraceptives. Still, Obamacare made it so that employers could opt out of providing contraceptives in insurance, but employees would still have them covered. Notre Dame fought against this accommodation for years, and in mid-October of this year, the Department of Justice settled with the university, along with other institutions, agreeing that they would not have to provide contraception in insurance coverage. Between that settlement and Trump's roll back on the birth control rule, Notre Dame moved forward with stripping contraceptive coverage at the end of October.
Shiraef says she feels the move is "discrimination against women," which ultimately "amounts to a pay cut against women," and she explains that she was surprised Notre Dame would take the extra steps to prevent coverage after already having an arrangement in place. "This is deeply intrusive into our lives that we have to be in a relationship with our employer that's related to our birth control." Elite Daily reached out to Notre Dame for comment on the new birth control policy but did not hear back at time of publication.
Even before this new rule, Notre Dame was not the easiest place for a woman to get birth control. Shiraef, for instance, faced major charges last year for complications related to her IUD. But even just picking up a birth control pill prescription at the campus pharmacy was a struggle, other students explain.
Emily Garrett, now a senior, had already been on birth control when she went to get a refill as a freshman new to campus. However, she found that she couldn't get a refill from the Notre Dame pharmacy unless she had a prescription with a medical diagnosis — as in, pharmacists would not give a birth control prescription if they thought it was for strictly contraceptive purposes. Molly Burton, also a senior, faced the same issue when she went to get a prescription in her freshman year. That's when the two women realized it was a common experience among Notre Dame students. If you went to the campus pharmacy without a prescription saying your birth control was explicitly for a non-pregnancy-related need, the pharmacy would give students a hard time, Garrett and Burton claim. (Elite Daily reached out to Notre Dame for comment on the pharmacy's contraceptives guidelines, but did not hear back at time of publication.)
The university's Aetna Student Health policy says that "University Health Services may prescribe contraceptive medications to treat approved medical conditions, but not to prevent pregnancy."
Last month, Garrett and Burton attended a protest on campus held by the Graduate Workers Collective of Notre Dame to combat the birth control policy change. Aside from that, both women say they've found it difficult to take a stand against the university's contraceptive policy. In the last three years, Burton became frustrated with the undergraduate student body's lack of an activist culture. She feels that her classmates seem to believe "if a policy isn't affecting me, why should I do anything?" Ultimately, she says, that stance means, "we're ignoring our friends."
Garrett founded Feminist ND two years ago, but even through that she sees limitations in what she can do, in large part because of the university's Catholic affiliation. "We can't really do anything [in response to the birth control policy change] because to advocate against the university's new policy would be to go against their interpretation of the Catholic mission," Garrett says.
Although the group hasn't been explicitly told to not speak out on more "controversial" feminist issues, it was made clear by its advisers at the group's founding that it should stay "more conservative" to retain a place on campus. (Elite Daily reached out to Notre Dame for comment on student group activism, but did not hear back at time of publication.)
The Catholicism of members of the student body also concerns Burton, who sees the lack of access to contraceptives as a "health hazard." If students are coming from religious secondary schools, they may not have gotten proper sex education, which can lead to "unhealthy practices," since the university isn't stepping in to help.
"I know Notre Dame has the potential to really embrace these basic rights," Burton says. But instead, she feels that the school is "ignoring them because of its Catholic identity."
Overall, Burton, Garrett, and Shiraef all express disappointment in the university for making this new rule, even if it's not entirely surprising. "The university always talks about how they want to be the most inclusive they can. I'm not very Catholic, but I [believe] that the Catholic teaching is to love everyone and let God judge," Garrett says. "It just feels like the university isn't holding true to that message."