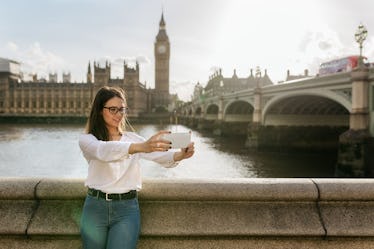 You Can Fly To London Starting At $160 This Spring For A European Getaway
The holiday season may still be in full swing, but it is never too early to start thinking about your travel plans for next year. If jetting off to Europe is on your 2019 bucket list, then you are going to be over the moon about these affordable flights across the pond. Norwegian Air's spring 2019 flight sale includes $200 tickets to Europe for an amazing getaway. There's no time like the present to start planning your next vacation. With fares this low, there is really no excuse not to. Here's what you need to know about the Norwegian Air spring 2019 flight sale.
If you haven't gifted yourself anything for the holidays yet, or aren't planning to, you may want to rethink that. Norwegian Air's spring 2019 flight sale is the perfect way to treat yourself to a European vacation next year. There's nothing like the gift of travel, so why not practice a little self-care and book yourself a super affordable ticket during Norwegian Air's sale? Right now, you can book tickets for as little as $160 each way from the U.S. to several major cities across the pond. Per the Norwegian Air website, you can book travel from for as little as $144.90 each way from San Francisco to London's Gatwick International Airport. This is one of four new routes that Norwegian Air is adding to the company's growing list of flight paths. And, yes, that is the price for a nonstop flight. Airfare from the U.S. to Europe can be well over $1,000 depending on when you go, so prices like this should be snatched up ASAP. This particular route starts on March 31, 2019, according to Norwegian Air.
Norwegian Air also announced nonstop flights from Miami to London starting at $199.90 each way. Additionally, the budget European airline carrier will begin offering flights from Boston to Madrid starting at $199.90 each way. The first flight of this route takes off on Thursday, May 2, 2019. Norwegian Air is also jet-setting from Boston to Rome from $299.90 each way starting on Sunday, March 31. Norwegian Air is also running deals on flights from Liberty International Airport in Newark, New Jersey to Barcelona for $169.90 each way. Just a note that these flight prices also include tax, so there won't be any last minute surprises when you go to purchase your ticket. Check out Norwegian Air's low fare calendar to score a wallet-friendly ticket price and find out which dates work best for you.
Late spring and summer are some of the best times of the year to visit Europe. The cold of winter is gone and the outdoor cafes are opening up. You can enjoy a drink and a meal outside at a bistro or grab a blanket and snack on a spread of your own at a local park. You may not have an official spring break anymore like you did when you were in college, but these super affordable fares may have you creating a spring break of your own. Plus, what better gift to buy yourself for the holidays than a trip to Europe? Just make sure you save up that PTO so you can spend at least a week exploring all that England and Spain have to offer.