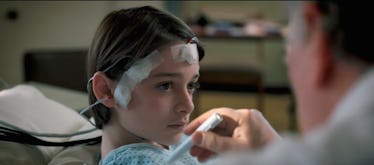 Will Byers Promises 'Stranger Things' Season 3 Is The Best One Yet & TBH, I'm Not Ready
Netflix
If you're concerned that the upcoming Stranger Things season won't live up to the previous two, it's time to stop worrying. According to one of the cast members, the upcoming chapters of Netflix's supernatural hit will surpass audience expectations. Now that filming for the next part is fully in session, Noah Schnapp aka Will "Zombie Boy" Byers is revealing some Stranger Things Season 3 details that will pump you up for the Upside Down adventures to come.
"Season 3, honestly, it's like, amazing. I think it's better than one and two," Schnapp divulged to E! News at Netflix's FYSee event. Well, that's promising. "I read one through four, and they're writing the rest," he added, answering a coy "yes" when asked if viewers will be shocked.
Stranger Things has been known for its twisty plot lines and mysterious turns since the moment it premiered back in July of 2016. Keeping things interesting and shocking in a third season isn't an easy feat after all the citizens of Hawkins, Indiana have been through already, but it already sounds like the series has some tricks up its Member's Only jacket sleeve when it comes to the journey ahead.
Netflix even released a sneak peek video earlier this month that documented the cast coming together for a Season 3 table read. The dramatic black-and-white clip, set to a familiar-sounding chilling techno score, read: "On April 20, 2018. Old friends. And a Few Strangers. Came Together. To Start. A New Adventure." Not only did it flash cuts of the group fans have come to know and love, it highlighted new members (and their respective place cards) of the Stranger Things family.
Adding fresh faces is just one way to spice things up in a third season. Prepare to meet Hawkins' "handsome, slick, and sleazy" Mayor Larry Kline (portrayed by The Princess Bride's Cary Elwes) when Stranger Things returns. Jake Busey will play Bruce, a Hawkins Post reporter with "questionable morals and a sick sense of humor" and Maya Hawke is Robin, "an alternative girl who is equal parts sharp and playful."
There's also a reason Noah Schnapp might be feeling this particular season. His character Will Byers apparently won't have to deal with the kind of torturous trauma he was faced with in Season 1 and Season 2. I mean, let's be real. He's been through A LOT.
"We're going to give Will a break," executive producer Shawn Levy told Glamour. "We're not going to put Will through hell for a third season in a row. He'll be dealing with stuff, but he won't be at rock bottom the way we forced the amazing Noah Schnapp to play."
Phew. Maybe mama Joyce can finally have a moment of peace.
But just because Will is getting some relief doesn't mean the kids are exactly safe. Season 3 will obviously not be all about school dances and coming-of-age cuteness — evil still lurks in the, well... shadows. Following Season 2's finale, co-creator Ross Duffer explained what the final moments hinted at:
They've shut the door on the Mind Flayer, but not only is it still there in the Upside Down, it's very much aware of the kids, and particularly Eleven. It had not encountered her and her powers until that final episode. Now, it knows that she's out there. We wanted to end on a little bit of an ominous note.
Season 3 will time jump to the summer of 1985, one year after the second season. There's no word on when the next chapters will hit Netflix, but it's safe to say excitement is building now that production is officially underway.