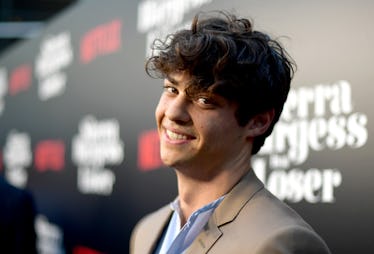 Noah Centineo's Next Possible Movie Role Is The Most Perfect One Yet
Matt Winkelmeyer/Getty Images Entertainment/Getty Images
After revitalizing the teen rom com genre on Netflix, To All the Boys I've Loved star Noah Centineo has new projects on his mind. After blessing viewers with the delight that is Peter Kavinsky and playing a similar character in Sierra Burgess Is a Loser, the 22-year-old star just dropped a hint about where fans could find him next. Noah Centineo's next movie might be a "romantic comedy action" film, so start imagining Peter Kavinsky in an intense car chase or pulling off some crazy martial arts stunts.
Speaking to Esquire, Centineo spilled about his upcoming work, and while he didn't mention the status of his connection to it, he definitely has a soft spot for a particular script. He told the magazine, "There's one specific script out now that I want to do...It's a romantic comedy action film. It's just so perfect."
Admitting to the publication that a "good message and a relatable character" is enough for a role to persuade him, Centineo seems to know as much about the movie as we do. The close timing of the Netflix releases of To All the Boy I've Loved Before and Sierra Burgess Is a Loser was a little too good to be true, so we'll probably have to wait before this possible rom-com action hero comes to fruition. Peter Kavinsky's lax bro skills have to benefit other roles somehow, right?
In case the action movie doesn't work out, one fan on Twitter has a pretty valid suggestion of what Centineo can pad his resume with next. I am here for him going the distance as the title role in a live-action Hercules film. Why not, Disney?
Although he seemingly doesn't want to distance himself from his new status in the rom-com world, Centineo has spoken about taking on slightly more artistic roles in the future. In an interview with IndieWire, he spoke about seguing into romantic dramas with renowned directors he admired, saying:
I'd like to do auteur pieces, something more existential and heavy. It's possible that like romantic drama would be a cool way to segue into other genres. I'm really into Gaspar Noé's work. I'm really into the Coen brothers, and the Nolan brothers.
Given Centineo's brooding Instagram shots and philosophical Twitter posts, he's more than prepared for darker, heavier content in roles. Before that move to more mature movies, Centineo's IMDb page shows that he has four other projects recently completed or in the works. He'll next appear in Swiped, due out this November and starring Centineo as a college student who enlists his coding roommate to develop a hookup app. His character doesn't quite sound like the sweet, gentlemanly Peter, but when it comes to consistently appearing in new movies, Centineo is definitely winning lately.
Seeing as Swiped won't be everyone's cup of tea, I'll keep busy imagining what this rom-com action movie could entail. Will normal people fall into a deadly heist scheme a la Date Night or Fool's Gold? Could lovers who are actually secret agents hide their identities from each other like in Mr. & Mrs. Smith? Perhaps even taking a note from To All the Boys I've Loved Before, maybe exchanging love letters will become dangerous in Centineo's dream part. We wish him luck in snagging that role and bringing it to the big screen soon!