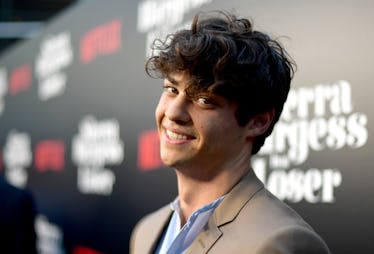 Noah Centineo Got Real About What Dating Is Like After 'To All The Boys I've Loved Before'
Matt Winkelmeyer/Getty Images Entertainment/Getty Images
Noah Centineo's life has changed quite drastically since To All the Boys I've Loved Before made its way to Netflix back in August. The 22-year-old actor, who made a name for himself as Jesus on The Fosters, has literally taken the internet by storm thanks to his performance in the new Netflix hit. And that's changed his whole mindset about dating. Noah Centineo's comments about dating after To All the Boys I've Loved Before prove he's not letting this whole fame thing go to his head.
In a Sept. 6 appearance on BuzzFeed News' Twitter show, AM to DM, Centineo revealed his new stance on dating now that he's essentially become a household name.
"It's interesting. Nothing's changed as far as girls," he said. "It's just that now people might know who I am previously, so you have to vet the intentions. Like, 'Oh wow, you're gorgeous, but you never would've been talking to me unless I had a film out.'"
A little self-deprecating humor is always a good thing! It just proves Centineo's ego isn't getting the best of him now that his star is rising. But that's not to say the temptation to bask in all his newfound notoriety isn't there. In fact, Centineo had quite the surprise when he returned to his hotel.
"I got back to my hotel yesterday and there was a small army of people waiting outside," Centineo revealed. "That was the first time that had ever happened. I wasn't expecting it, and it was really humbling how much love these people had."
So, he's reaching new heights... to the point where fans are gathering to catch a glimpse of him, which has to be both flattering and unnerving. But Centineo looks to be taking all of it in stride. Good for him!
During his appearance on AM to DM, Centineo was asked who'd he like to play Peter Kavinsky's father in a To All the Boys I've Loved Before sequel. His answer? The only one that makes sense: Mark Ruffalo.
"Since I was 15 years old and acting I've been compared to him," Centineo said of Ruffalo. "A lot of people say we have the same mannerisms and little quirks."
Aside from the Ruffalo comparisons, Centineo said he'd love to work with the actor because he really admires him.
"I just look up to him so much," Centineo said. "I love his films and I love his work. He has such range. I think he would do so well. I mean, I know he would do so well."
Clearly, Centineo's life has changed enough over the past few weeks that he's having to reconsider a lot of things — dating, hotel accommodations, who gets to play his dad. It's a lot to process, for sure, but Centineo is handling it so well! Thank goodness because Summer 2018 is shaping up to be the Summer of Centineo. Another one of his films, Sierra Burgess is a Loser, is set to make its debut on Netflix on Sept. 7. So, be sure to look out for that!