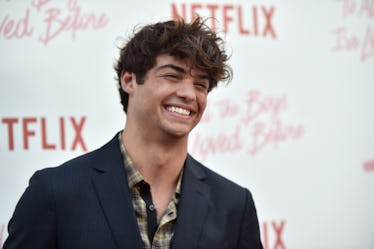 Once You Notice Noah Centineo In This Steamy Music Video, You'll Play It On Repeat
Alberto E. Rodriguez/Getty Images Entertainment/Getty Images
Evidently, I've been living under a rock for quite some time now. Although I've listened to it, like, 2,934 times, I'm only just realizing Noah Centineo as Camilla Cabello's love interest in the "Havana" video. The good news, I guess, is that now I have an excuse to play it a million times more. (As if I wasn't gonna do that anyways, but let's roll with it.)
The internet has been obsessed with Centineo following the release of the Netflix hit To All The Boys I've Loved Before, in which he stars as the adorable Peter Kavinsky, but with a closer eye, fans will notice that he is also the broody hunk in "Havana." That's right: he is the dreamy guy who intimately gazed into her eyes as they dance on the street, passionately kiss under the stars, and seemingly went off and lived a happy, healthy life with her (in the video, that it). *swoons*
Some Twitter users are equally just as shooketh about this revelation.
"I just realized Noah Centineo aka Peter freaking Kavinsky is in Camilla Cabello's Havana music video and now I CAN'T STOP EATCHING [sic] IT! AS IF I NEEDED ANOTHER REASON TO WATCH IT HOW DID I MISS THIS???" one person wrote.
@Houses_28 is me.
We are all snatched.
The video was released back in October 2017 — long before Centineo was as renowned of a star as he is in the present day. He previously opened up about how he landed the spot in the "Havana" video to Vulture, telling the publication in August that it was pure serendipity. He explained:
My manager calls me one day, like, 'Hey man, we've got this opportunity for you to be in a music video. I don't know if you're going to want to do it …' I'm like, Well who is the artist? He said Camila Cabello, 'Havana.' I was like, Dude you don't even know. My sister just showed me this song like a week ago, I love this song, I am in 100 percent.
What a blessing. I'm just over here like:
Speaking of what his experience was like on set, Centineo added:
So I get there and they put me in this incredible suit. They give me gold rings and necklaces, my hair is slicked back, and I look all Cubano. And then they take me to set and Camila is there, and she is, like, the kindest, smallest, most loving creature ever. She had so much energy.
That energy clearly translated well on cameras, because the two appeared to have great chemistry in the video. Here it is, in case you wanna take a look for yourself:
What's more exciting is that Centineo is slated to make many more cameos in the future. He's set to appear in the upcoming Netflix movie Sierra Burgess Is a Loser. And according to his IMDB page, Centineo also has three other movies coming up: Swiped, The Stand-In, and The Diary. It's unclear if he'll have a leading role in any of the flicks, but it's great to know we're at least being blessed with more Noah.
Until then, I'll be keeping "Havana" on repeat. So if anyone needs me, you know where I'll be.