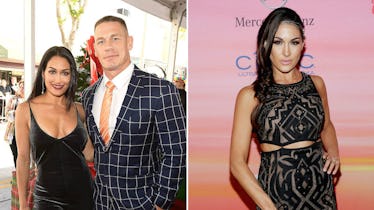 Brie Bella Got Real About Why Nikki Bella & John Cena Split & It's Upsetting
Matt Winkelmeyer/Robin Marchant/ Getty Images Entertainment/Getty Images
By now, you probably know about Nikki Bella and John Cena's broken engagement. It's beyond sad, especially given the fact that the couple was just weeks away from getting married. While there are a ton of things that go into making a relationship work, sometimes, two people with incredibly hectic schedules just simply don't have the time to dedicate to their significant other, which may have played a role in their split. And according to twin sister Brie Bella, Nikki Bella and John Cena's breakup was "understandable" given their very busy lives.
Brie Bella spoke with People and revealed that she had no indication that her sister and John Cena would break up, but that both have "dominating" careers, making time spent together very infrequent. She said,
I just think how busy everyone's schedule is, and unfortunately with John and Nicole, they are two people in their careers who are really dominating what they're doing, and in doing that, it means you're always on the road.
She continued, saying,
He's filming movies and she's doing all these different events. She's one minute bottling up vintage chard in Napa and the next second she's in New York representing Birdie Bee ... I think to myself as business people, in the last decade we've always been this busy, so it wouldn't cause a loneliness. We're used to it. So I didn't see it coming, but it's also understandable that it's hard when you never see someone.
The couple announced their split in a joint statement provided to Us Weekly on April 15, asking their fans to respect their privacy while they navigate through this difficult period:
While this decision was a difficult one, we continue to have a great deal of love and respect for one another. We ask that you respect our privacy during this time in our lives.
Nikki Bella and John Cena began dating in 2012 before finally getting engaged in April 2017 on live televesion during Wrestlemania 33.
And even though John Cena is no longer dating Nikki Bella, Brie Bella still considers him to be a part of her family.
A source told People on April 17 that Brie Bella wanted to "kill" John Cena for hurting her sister, but that there was "relief" after hearing of the called-off engagement. Brie Bella addressed those rumors almost immediately, and on April 18, put up a screenshot of the People article on her Instagram Story. She circled that quote that stated that she wanted to "kill him," and wrote, "False!!"
Underneath, she wrote,
I'd never say this and I'll always love @johncena like a brother. He'll always be family. My heart is hurting for he [sic] and my sister. #Truth
Breakups affect more than just the two people in the relationship, y'all.
On Saturday, April 21, Nikki Bella made her first public appearance since the breakup, where she and sister Brie hosted a rosé tasting party in partnership with their wine line, Belle Radici, at the Nirvana Food and Wine Festival in Arizona.
"She's good, they call her fearless Nikki for a reason," Brie Bella told People. "She always puts on that brave face. My sister has more strength than any other woman I know, especially Wonder Woman. She's bigger than that."
Bella also revealed that fans will watch the issues that Nikki Bella and John Cena's relationship faced during the upcoming season of Total Bellas. She said,
I really had to take a step back and allow it and that was really hard on me because it's my twin. I want to protect her from everything. This has been the hardest season to film for me because all I want to do is protect her and keep everyone away, but this is what we do.
It's so, so heartbreaking to watch anyone go through such a difficult time, but it seems like both Bella and Cena have a ton of people helping them get through it. Here's hoping that both find happiness and acceptance moving forward.