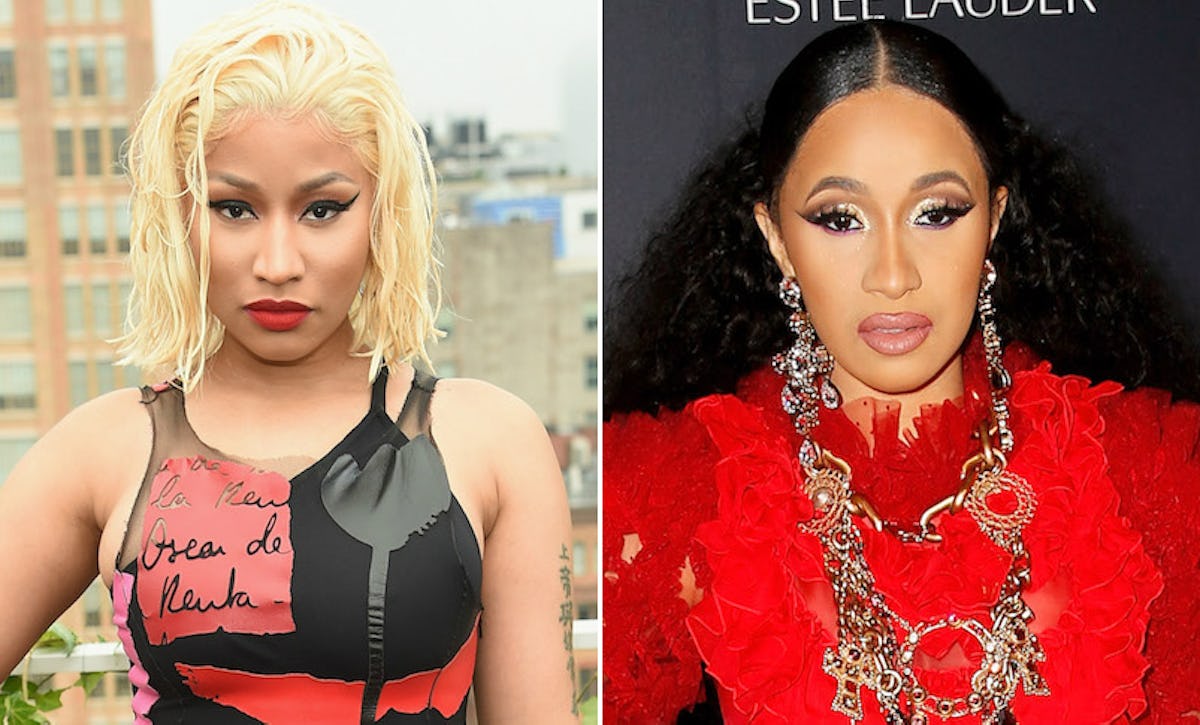 Nicki Minaj Just Dropped New Merch That Literally Mocks Cardi B
Dimitrios Kambouris/Dominik Bindl/Getty Images Entertainment/Getty Images
Is it just me, or is the shade just getting stronger and stronger between rappers Nicki Minaj and Cardi B? Whether they're delivering insults on social media or face to face, it seems like neither of the two is willing to back down. And now, the Queen has just taken the situation to an entirely new level that will make your jaw drop: that's right you guys, Nicki Minaj's merchandise mocking Cardi B is now available, and it is equal parts brutal and hilarious. Elite Daily reached out to Cardi B's team for comment on the merch, but did not hear back by the time of publication.
It's been a little less than a month since Nicki Minaj and Cardi B had an altercation at the Harper's Bazaar Icon party at The Plaza Hotel, after which, an infuriated Cardi B took to Instagram to address her beef with Nicki head-on. On Sept. 8, she wrote in part,
I've let a lot of sh*t slide! I let you sneak diss me, I let you lie on me, I let you attempt to stop my bags, f*ck up the way I eat! You've threatened other artists in the industry, told them if they work with me you'll stop f*ckin with them!! I let you talk big sh*t about me!! I addressed you once in person, I addressed you a second time in person, and every time you copped the plea!! ... I've worked to hard and come too far to let anybody f*ck with my success!!!!
Damn, Cardi, tell us how you really feel.
Just days after the altercation, Minaj addressed her issues with Cardi B on her Queen Radio talk show on Apple Music's Beats 1. On Sept. 10, she talked about Cardi's claim that Minaj "stopped her bag" (which is essentially a phrase used to call out someone or something that's trying to prevent your success), and got into a heated discussion about the allegations that Cardi B ordered an attack on a pair of strip club employees. "The Lord gave you a blessing of a beautiful bundle of joy and the only thing on your mind once you gave birth was to attack people and to stop their bags," Minaj said on her show, adding, "And you wanna let your publicist write something about stopping bags?"
She continued, saying, "Do you know what the f*ck it is to sit in your f*cking room for hours and days at a time writing raps? You came into my f*cking culture!"
Clearly, Cardi B and Nicki can both dish out some serious burns.
But the "Barbie Dreams" rapper didn't stop there. On Thursday, Oct. 4, Minaj took to Instagram and announced a new line of merchandise that would be available through her online store, ranging from jackets and T-shirts to backpacks. While that in itself doesn't seem to be shady, the words written on some of the products certainly do:
THAT'S RIGHT, YOU GUYS. Nicki Minaj's merch has "Nicki stopped my bag" and "Queen Security Administration" written on them, and I am living for this kind of drama. (Also, these products are actually pretty affordable, ranging from $30 to $75, so if you're #TeamNicki, it's a pretty inexpensive investment.)
If I were you, I'd go ahead and break out the popcorn, since there's probably no way Cardi B is going to let this one slide.