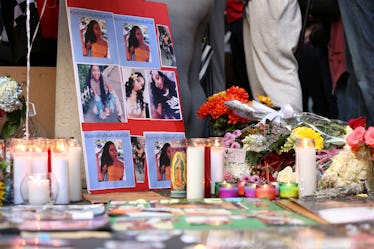 Nia Wilson's Murder Is Prompting Important Conversations About Racism In America
Lorin Eleni Gill/AP/Shutterstock
On Sunday night, July 22, a man stabbed two girls on a BART train in Oakland, California, killing 18-year-old Nia Wilson and critically injuring her sister Lahtifa, both women of color. The suspect, who was arrested on Monday, July 23, is a white man. Now, Nia Wilson's murder is prompting national conversations around racism.
The attack occurred around 9:45 p.m. on Sunday on the MacArthur platform of the Bay Area Rapid Transit, according to SF Gate. The attacker apparently approached the two sisters from behind and stabbed them in the neck before fleeing and changing clothes in the parking lot.
The violent incident provoked outrage in the public sphere as well as the digital one. Hashtags #SayHerName, #NiaWilson, and others began popping up on social media. Prior to his arrest, users began sharing news and images of the victim as well as images of the suspect to ask for help in finding him. In an emotional appeal, video by KTVU shows, Wilson's father described seeing her at the scene of the crime. "Please help me get justice for my daughter," he said. "That's my baby girl laying up there."
On Monday night, a vigil for Wilson was held at the same BART station in Oakland where the stabbing took place, and the event turned into a full-fledged demonstration and march. "No justice, no peace," and "Stop killing our kids," the crowd chanted, according to video by ABC.
The police arrested a 27-year-old white male on Monday evening after passengers on a different train spotted him hours later, per SFGate. According to reports, the victims did not know their assailant. Given that the suspect is white and the Wilsons are African American, police are reportedly taking the possibility of a hate crime into consideration. However, BART Police Chief Carlos Rojas said on Monday that they "haven't connected him to any type of radical group or white supremacist group or anything like that," per ABC.
According to CNN, the woman's godfather, Daryle Allums, asked "the African-American community to stand down," until a motive was known.
"We don't know if this was racist," Allums said, per The San Francisco Chronicle. "Let's get this information to find out what really happened. Let's find out the right facts to then be able to deal with this situation."
But many on social media had already labeled the incident a hate crime, though investigators hadn't yet identified a motive, and despite the lack of a named motive, Wilson's killing has prompted a larger discussion around race-based violence in America.
"My heart breaks for #NiaWilson," tweeted writer Eve Ewing. "And for every black woman and femme that walks home feeling the danger from all sides. This fear we carry is literally building up in our bodies, killing us like a poison if we don't first face punishment for simply being alive."
There was particular mention on Twitter of the increase in hate crimes since President Donald Trump took office in early 2017. The Washington Post reported in May that, per FBI data, on the day after Trump's inauguration, there was a spike in hate crimes. A study last month found a strong correlation between anti-Muslim rhetoric in Trump's tweets and the rate of hate crimes against them in the same time period.
But, of course, even before Trump took office, the country overall has a "deeply racist history," as Oakland Mayor Libby Schaaf pointed out in a statement condemning the attack. Per ABC, she said,
As the Mayor of Oakland, it's important I acknowledge that this horrific crime has a context. Although investigators currently have no evidence to conclude that this tragedy was racially motivated or that the suspect was affiliated with any hate groups, the fact that his victims were both young African American women stirs deep pain and palpable fear in all of us who acknowledge the reality that our country still suffers from a tragic and deeply racist history.
The mayor also cited news of an apparent white supremacist gathering slated for Monday in downtown Oakland. There is as yet no verified evidence that the attacker was connected to that gathering.
While the public is still waiting to know whether there was any connection between the suspect and any hate groups or whether the crime was racially motivated, the incident has begun a vital dialogue on the topic.