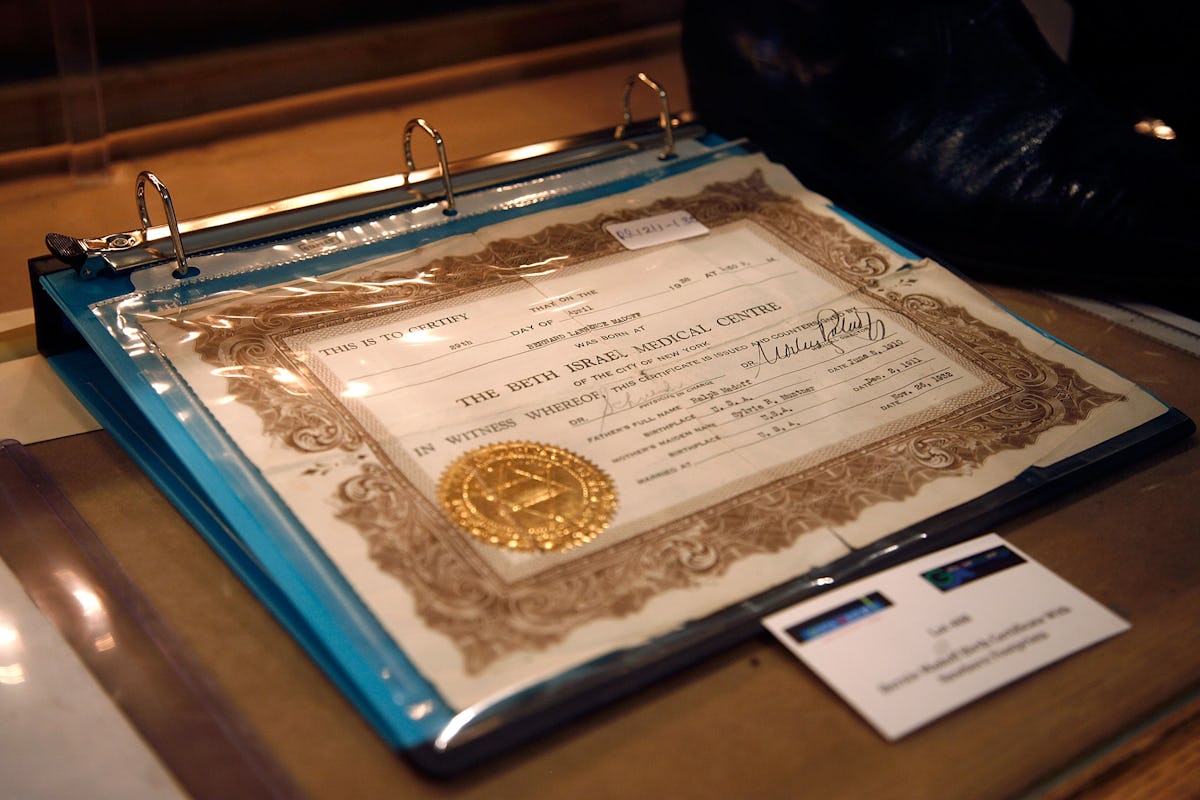 This Major City Is Adding A Third Gender Option To Its Birth Certificates
Andy Kropa/Getty Images Entertainment/Getty Images
In a time where it can often feel like we're going backwards instead of forwards, a historic decision may offer a change of pace. As of Tuesday, Oct. 9, New York City is adding an X gender option to the major city's birth certificates. Finally, some good news.
On Oct. 9, New York City Mayor Bill de Blasio signed the historic legislation into law, which will create a third gender option category available on New York City birth certificates, appearing as an "X" on the form. In addition, this new law will remove medical and administrative barriers in order to make it easier for transgender and non-binary individuals born in New York City to revise their own birth certificates and accurately reflect who they are. According to a press release on the website for New York City's Office of the Mayor, this law will go into effect on Jan. 1, 2019.
Following the landmark decision, de Blasio spoke to his fellow New Yorkers during the signing that day to explain the new legislation and how it will help members of the LGBTQ community accurately reflect their personal identity. He said,
New Yorkers should be free to tell their government who they are, not the other way around. This new legislation will empower all New Yorkers — especially our transgender and gender non-binary residents — to have birth certificates that better reflect their identity, and it furthers the city's commitment to defending the rights of our LGBTQ community.
This decision not only will help trans and non-binary individuals proudly identify as who they are, but it also has other benefits that will assist them as New Yorkers. By adding this third category, members of these communities will be able to access housing, employment, and other tools much easier, and it will hopefully decrease likeliness of discrimination due to mismatched gender markers.
New York City is joining a few other states and territories which have passed similar laws. In June 2017, Washington, D.C. became the first place to add the "X" gender category to its IDs and licenses. Then, just a few days later, Oregon followed suit. As of October 2018 several other states, including Maine, Washington, California, and New Jersey, all offer a third, or non-binary, option on birth certificates or IDs.
As one of the largest and most influential cities in the world, this kind of progressive legislation out of New York City is a big deal. In response to Mayor de Blasio signing the law, a number of LGBTQ+ organizations and activists came forward to celebrate the historic decision, and Tanya Asapansa-Johnson Walker, a co-founder of the New York Transgender Advocacy Group, told The Wall Street Journal that although this may seem like a small step, it's a huge leap for members of these communities.
"This change may seem small, but this is monumental for so many people," Walker said. "And I'm so glad new generations will not have to endure such indignities."
For a while it felt like we were living in the 1900's all over again, but thankfully this decision reminds us that progress is still achievable and people are still advocating for everyone's equal rights. Keep moving forward.