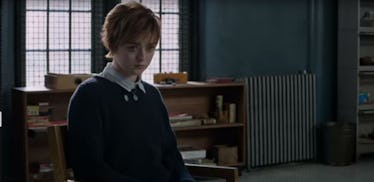 Maisie Williams In The 'New Mutants' Trailer Is The Scariest Thing You'll See This Friday The 13th
20th Century FOX
It's not just any Friday the 13th today — it's a Friday the 13th that falls in October, the month known for horror and scares. It's no surprise then that today has seen the arrival of Netflix's latest trailer for Stranger Things, the 1980s horror/sci-fi pastiche. Along with it, 20th Century Fox had also dropped their latest unexpected foray into horror, the first trailer for The New Mutants.
If the word "mutants" makes you prick up your ears and say "X-Men?" you're absolutely right. Three years ago, Fox was struggling to find a way to keep their 1990s era Marvel acquisition of The X-Men fresh in the movie houses, so they could continue to have a new film in production every two years, as is stipulated by their contract. (If they lapse, the characters will revert ownership back to Marvel, and Disney and the MCU will be able to make movies about them, instead of the Inhuman knockoffs.)
Then, Fox hit upon a discovery when they released Deadpool, an R-rated semi-parody of the MCU-style movie. Realizing that audiences were hungry for Marvel-based movies that aren't standardized PG Disney films, they've started branching out, following up with the noir-style Logan, and now an honest to god horror style X-Men film, focusing on The New Mutants.
Turning the world of The X-Men into one where the good guy mutants are trapped by (or hiding from) a government arm that wants to round them up and conduct deadly tests has been featured a lot recently in the Fox Marvel-verse. Logan featured the character of X-23, an artificially created mutant who is on the run from the US government, going so far as to cross into Canada to escape. Both Fox's Marvel TV shows, Legion and The Gifted, also focus on the next generation of mutants after Professor X and how the government is after them.
And now, Fox's latest movie spinoff focuses on five characters from the New Mutants comic book series, who realize they have been living a life trapped in a government facility.
Here is the synopsis:
Held in a secret facility against their will, five new mutants have to battle the dangers of their powers, as well as the sins of their past. They aren't out to save the world — they're just trying to save themselves.
The mutants are:
Rahne Sinclair (aka Wolfsbane), played by Game of Thrones' Maisie Williams
Sam Guthrie (aka Cannonball), played by Stranger Things' Charlie Heaton
Roberto da Costa (aka Sunspot), played by Teen Wolf's Henry Zaga
Danielle Moonstar (aka Mirage), played by The Originals' Blu Hunt
Illyana Rasputin (aka Magik) played by newcomer Anya Taylor-Joy
The choice to make this movie series one that crosses into the horror genre is a deliberate one, according to director Josh Boone.
We made a comic book with what our vision of the series would be. We love that Fox wants to make all these different X-Men spinoffs as drastically different as they can.
Williams is now the third major Game of Thrones cast member to try her hand at the Fox version of the Marvel-verse. Peter Dinklage (Tyrion Lannister) played Big Bad Dr. Bolivar Trask in the time traveling X-Men: Days of Future Past, which helped tie the reboot of the more traditional PG-level X-Men to the original series from the 2000s.
Williams' BFF Sophie Turner (Sansa Stark) now stars in that rebooted version as Phoenix, headlining the new X-Men: Dark Phoenix trilogy. Will there be a chance of Traditional Mutant/New Mutant crossover between films, for the two of them to work together in the future? Only time will tell.
New Mutants is currently scheduled to be released on April 13, 2018.