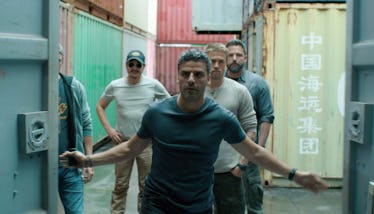 Netflix's 'Triple Frontier' Trailer Proves It's The Most Star-Studded Original Movie Yet
Netflix
Much of the talk about Netflix come 2019 is how the streaming service behemoth will fare against the first real competition it has faced in over a decade when Disney+ enters the market. But Netflix is taking a tip from a famous TV series, and not one stuck in a battle between it and the House of Mouse. If you don't like what people are talking about, change the conversation. To that end, it has released the first trailer for one of the upcoming 2019 offerings, and it's a doozy. Netflix's Triple Frontier trailer is a reminder the company didn't spend a rumored $13 billion for nothing.
The film has been banging around Holywood for years, with directors such as Kathryn Bigelow attached and then unattached and big star names like Tom Hanks, Will Smith, Johnny Depp, Channing Tatum, Casey Affleck, Mahershala Ali, and Tom Hardy all in and out of talks to star as various characters. It finally landed at Netflix back in March with an all-star cast, including Ben Affleck, Oscar Isaac, Charlie Hunnam, Garrett Hedlund, and Pedro Pascal. (Affleck has been one of the few constants of the film, though he's pulled out and then gotten back in as his personal life has fluctuated.)
Check out the trailer:
Here's the film's synopsis, according to Deadline:
A group of former Special Forces operatives reunites and plans a heist in a sparsely populated multi-border zone of South America. For the first time in their prestigious careers, these unsung heroes undertake this dangerous mission for self instead of country. Things take an unexpected turn and threaten to spiral out of control, their skills, their loyalties, and their morals are pushed to a breaking point in an epic battle for survival.
This, like Netflix's more recent films, will be opening in select theaters before it starts streaming on Netflix. This is the streaming service's newest angle in trying to get respect from corners of the movie world who refuse to treat films released directly to television as on par with those playing exclusively in movie houses for weeks or months on end.
In some cases, that has worked, as in the case of last year's Oscar nominee Mudbound. In other cases, it has not gone over as well, like the recent release of Mowgli. The big test this month for the strategy is to see if Roma, which critics have been gaga over, will find its way to Oscar nominations or no.
But the better choice is for Netflix to start doing this with all the movies it wants to get attention, even if the films are most likely not awards contenders down the line. Once it becomes standard practice, it won't be as noticeable when Netflix uses it for films like Mudbound and Roma.
Not that Triple Frontier doesn't look good, mind you. The battle sequences definitely look worth seeing on the big screen. But for those who perhaps won't be able to go see it due to scheduling, Netflix will have it for you ready at home to watch when you're ready.
Triple Frontier arrives in select theaters and on Netflix in March of 2019.