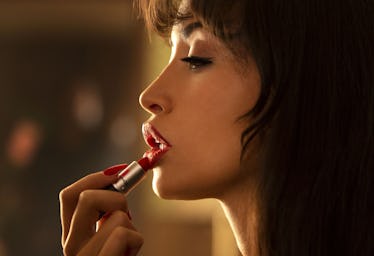 Netflix's 'Selena: The Series' Teaser Reveals The Premiere Date & It's SOON
Netflix
Selena Quintanilla's death in 1995 was a worldwide shocker. Known as the "Queen of Tejano music," she was poised to be the spearhead in a breakthrough of Latinx music in the United States. But her death was equally shocking in how it happened; she was murdered by the president of her fan club. It's a story that's fascinated the world since it broke, and the original hit film about it made Jennifer Lopez a household name. Now, Netflix is tackling Selena's story in a new two-part series. And it's coming soon: Netflix's Selena: The Series teaser promises its premiere date is just around the corner.
Selena was born in Texas in the early 1970s. Her father, a former musician, recognized her talent early on, and by the time she was eight years old, he had her performing in his Tex-Mex restaurant. After a move to Corpus Christi, he became the manager of a band created around her, Selena y Los Dinos, which specialized in Tejano music.
Tejano music (or Tex-Mex music) is a byproduct of the European polkas and waltzes brought by immigrants in the mid-1990s, mixed with Mexican influences south of the border and U.S.-based country and rock music. It was also a music style that was extremely male-dominated in the 1970s and 80s, making Selena's rise in the genre even more remarkable.
Selena: The Series will change up the way Netflix usually does business, premiering one part at a time instead of in marathon format. As the announcement teaser reveals, Part 1 debuts on Dec. 4.
This first half of the series will focus on those early years, when Selena struggled to make it in the business. According to the show's official synopsis:
Before she became the Queen of Tejano Music, Selena Quintanilla was a young girl from Texas with big dreams and an even bigger voice. The two-part coming-of-age drama Selena: The Series explores the once-in-a-generation performer's journey as a young artist, from singing small gigs in Corpus Christi with her family to becoming one of the most successful Latin artists of all time — and the years of grit and sacrifice the Quintanilla family navigated together before Selena's meteoric rise to fame.
Selena: The Series stars Christian Serratos (The Walking Dead) as Selena, Gabriel Chavarria (War for the Planet of the Apes) as her brother AB, and Julio Macias (On My Block) as her duet partner and bandmate Pete Astudillo. The series co-stars Jesse Posey, Hunter Reese Peña, and Carlos Alfredo Jr., along with Juan Martinez, Daniela Estrada, and Paul Rodriguez Jr. The show is created and executive produced by Moisés Zamora, along with fellow EPs Jaime Dávila, Rico Martinez, Suzette Quintanilla (Selena's real-life sister), and Simran A. Singh.
Selena: The Series premieres on Friday, Dec. 4, 2020.