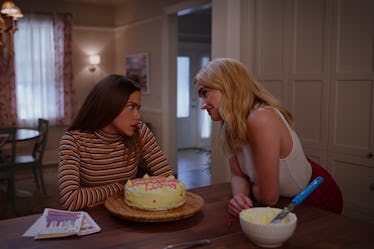 Netflix's New 'Ginny & Georgia' Trailer Is Like 'Gilmore Girls' Meets 'Dead To Me'
Netflix
A new family drama is headed for Netflix. Ginny & Georgia, a story of a mother-daughter relationship in all its love and glory, stars newcomer Antonia Gentry as Ginny, a 15-year-old who often feels outshone by her mother, Georgia (Brianne Howey). The series was already being compared to fan-favorite sitcom Gilmore Girls after the first-look photos came out, but Netflix's Ginny & Georgia trailer has seen those comparisons and raised the stakes. As clips from the upcoming show hint, there's a bigger mystery at play here.
Ginny & Georgia begins when Ginny finds out Georgia is moving the family yet again — this time, to a picturesque New England town. (No, it's not called Stars Hollow, but it sure looks like it.) Georgia believes this perfect town is exactly where she, Ginny, and Ginny's younger brother, Austin, need to be for her kids to have the childhood she never got. But there's something more to this endless moving than just Georgia's restless spirit.
As Ginny notes in the trailer, her mother's way of handling things is not to manage them. Instead, she stuffs them in a box and pretends they didn't happen. But running away from your problems doesn't work. After all, wherever you go, there you are.
As the trailer suggests, those problems are finally going to track the family down: