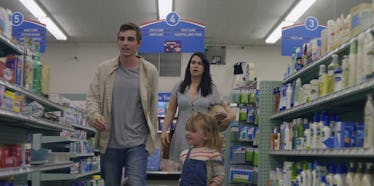 Dave Franco & Abbi Jacobson Are Starring In A Movie Together & The Trailer Is So Intense
Netflix
On Tuesday, Netflix blew my mind by dropping a trailer for a movie that I didn't even know existed: 6 Balloons, a drama starring two of my all-time favorites, Abbi Jacobson and Dave Franco. In 6 Balloons, Jacobson and Franco play Katie and Seth, siblings who are struggling with Seth's addiction to heroin. Yeah, you read that right. 6 Balloons is by no means a light-hearted movie, making the project a big leap for two actors with strong comedic roots. But despite working with heavier material, Franco and Jacobson shine in Netflix's 6 Balloons trailer and have a crazy amount of natural chemistry as brother and sister. Apparently, a Franco-Jacobson collab is exactly what 2018 needed.
As the trailer shows, Jacobson's character Katie is many things — a daughter, a friend, a sister — but the film's drama really picks up when she realizes that she may be an enabler, too. When Seth relapses on heroin, Katie drives him to a detox center, but Seth quickly starts begging her to help him get another fix. "It's the last time, I swear," he tells her while writhing in pain. The trailer cuts to him shooting up in a bathroom stall as Katie waits anxiously outside with Seth's infant daughter. Seth is clearly trying to be a good father, but Katie knows that he can't be a good father and be addicted to heroin, so she's left consoling the upset child. "It's OK, it's OK," she says repeatedly throughout the trailer.
6 Balloons is obviously hugely different than Broad City — you likely won't find any weed and vagina jokes in the Netflix movie — but Jacobson handles the transition to drama like an old pro. The trailer makes clear that this is Katie's story, and while she's not quite a hero, it's also not possible to describe her as an anti-hero, either. "I have done everything for you," she says menacingly to her brother in the car. Later, she tells Seth, "Don't say that you understand. It's like, the worst thing that you can say." In 6 Balloons, Jacobson is given the opportunity to be an internally conflicted, complex leading character, and after watching the trailer, I can't believe that Hollywood waited so long to give her the chance.
If the combined power of Dave Franco and Abbi Jacobson hasn't sold 6 Balloons for you, maybe this will: Channing Tatum, Franco's co-star in 21 Jump Street, serves as a producer on the film. Tatum's company, Free Association, co-produced 6 Balloons, the seventh film the company has worked on, according to their website. In addition to Tatum, Marja-Lewis Ryan, the showrunner of the upcoming The L Word reboot on Showtime, serves as writer and director. 6 Balloons is only her second feature film, so yeah, you should be impressed.
6 Balloons first premiered at the South By Southwest (SXSW) Festival in Austin this week to rave reviews. Film critic Brian Tallerico of Roger Ebert described the film as "one of the most unexpected, moving surprises of the year so far" and praised Franco and Jacobson's performances. While Katie doesn't get many long monologues to explain her inner turmoil, Tallerico wrote, "It's in her eyes. It's in her body language as she's clearly uncertain how to help Seth and stop hurting herself in the process. It's a great performance." The Daily Dot said that 6 Balloons is a "stunning ... story of addiction" and described the film as a "SXSW standout." The movie strikes so many as relatable because it is based on a true story: after the film's producer, Samantha Houseman, had a similar experience with her brother, Ryan asked if she could adapt the story for the screen, and 6 Balloons was born.
6 Balloons premieres on Netflix on April 6, 2018.