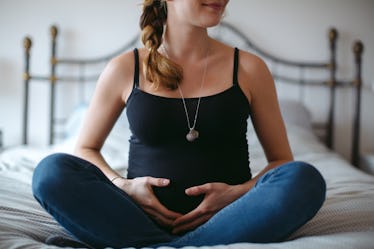 This Woman Finished Her Finals While She Was In Labor, So Yes, Women Can Do Anything
Where were you during finals week? Were you burying your face in a pile of textbooks or inhaling espresso shots in between trips to the library? Maybe you decided to hold off on typing up that British literature final until the very last second so you could enjoy the end-of-semester festivities instead. Either way, while you were scribbling notes to study from, or procrastinating a heavy workload, Johnson County Community College student Nayzi Thomas finished her finals while she was in labor, aka schooling all of us in academics and life in general. So if you haven't narrowed down your new year's resolutions yet, you might want to consider mastering the art of multitasking or, at least, completing a task when you say you will, despite the circumstances.
Only a handful of photos uploaded to social media have gone viral over the years, most of which were planted to make you laugh, or raise awareness on an emotional topic. But the snapshot of a full-term, very pregnant Thomas in a hospital bed, with an open textbook at her side and computer in her lap, wasn't posted for your entertainment, and it's certainly not your typical Kodak moment. Rather, it's an inspiring message to every woman on the grind, or getting there, that anything is possible if you're determined enough to make it happen for yourself.
Thomas aimed to finish her finals prior to giving birth, but babies wait for no one, and certainly no test.
Rather than taking some well-deserved time to rest while waiting for her adorable baby boy to arrive, Thomas was still hustling, attending regular classes at 39 weeks pregnant, with every intention to take her final exams before giving birth.
What I admire most about Thomas is that, even though her son was ready to make his grand entrance into the world, she took advantage of the wait time and pushed through (pun absolutely intended). Instead of yielding to the pain of her contractions, Thomas completed her fall semester in full — before the assignment was even due, might I add. Oh, and she also managed to keep a 3.5 GPA amidst her last trimester. To say the least, Thomas has already proven to her son, and to all of us, that she is the ultimate role model.
The dedicated Johnson County Community College student told Yahoo,
School is so important to me. I didn't want [the pregnancy] to be in the way. That's what people expect. You're a teen mom, you're a young mother. That's why my mom took that picture. It shows [I] follow through.
Unfortunately for Thomas, wrapping up an exam on dissociative identity disorder (heavy academic content for literally anyone) would be the least of her struggles on Dec. 12, 2017. The young mother reportedly experienced complications during labor, as she described in a tweet that she had lost a significant amount of blood and her body went into shock post-delivery. Thankfully, the new mom endured a successful blood transfusion and was able to head home healthy, happy, and full of love on Dec. 15.
Twitter is, naturally, in awe of Thomas' determination.
She clearly has it all figured out.
Thomas' story is definitely one for the books. With the right mindset, you can accomplish anything.
She handled it well, and flawlessly at that.
This picture absolutely represents so much more than a mere moment in time. It represents the kind of person Thomas is, and the devoted mother she will be to her son.
Thomas' perseverance through pregnancy, schooling, and life is absolutely something we should all be aspiring toward.
Standing ovations are definitely in order.
Damn right, she's phenomenal! But hey, so are you, and don't ever forget it. Thomas is an example of what we are all capable of.
More like, I'm going to think about this before opening my mouth to complain about literally anything ever again.
Can I get a mic drop?