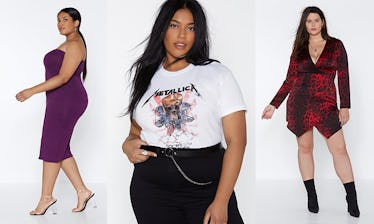 Nasty Gal Just Launched The Coolest Plus Size Collection & Everything Is Under $100
Nasty Gal
I'm the kind of girl who needs to try everything on. My hips are wider than my waist and my thighs have a muscular build to them, so my sizing varies pretty drastically from brand to brand. My proportions don't work everywhere — in fact, I have a list of stores that I don't shop at because I know their clothes won't fit me. It's not a long list, but it's still so frustrating to feel like my options are limited. So I perked up when I saw the news that Nasty Gal sells plus size clothing, starting today. The trendy online retailer has expanded their sizing range in their all-new extended sizing capsule collection, and the brand has never been more inclusive.
The collection ranges from sizes 0-18 and includes everything from T-shirts to night-out dresses. In a press release, the brand issued a statement explaining the no-brainer decision.
So here's the thing–confidence, fearlessness, and individuality make up the core of who we are, but size inclusivity was not always part of the conversation. Safe to say, we were overdue for a change. Which is why we're excited to finally introduce our new fall capsule–a super rad lineup of transitional pieces, available in sizes 0-18. You read that right, we're finally joining the party.
While sizing up to 18 doesn't mean Nasty Gal will be available for every woman to twerk in, it's certainly a step in the right direction. Below, some of my favorite pieces from the new extended sizing capsule collection.
The Little Black Dress
Keep It On the Bandeau Midi Dress ($20; nastygal.com)
Every hottie needs one of these in their closet. Dress it up, dress it down. Wear it to the club, wear it to a wedding. This is every minimalista's BFF.
The Cool Band Tee
Guns N' Roses Graphic Tee ($40; nastygal.com)
There's something so effortless about a vintage-looking band tee and jeans, and the best part is it looks even better with second-day hair.
The Girls'-Night-Out Dress
Stroke Me Leopard Dress ($60; nastygal.com)
Get ready to turn heads in this red leopard dress.
The Flaunt-It Dress
Keep It On the Bandeau Midi Dress ($20; nastygal.com)
Show off your assets in this below-the-knee bodycon dress. And just like the LBD, you can dress this one up with sparkly jewelry, or wear it casual with a jean jacket and sporty sneakers.
As if you haven't found something for every occasion already, Nasty Gal hs plenty more options on their website, but what you can't expect to find is anything over $100. With a more-inclusive size range and prices beginning at $16, everyone can stock up on all the essentials — you get an LBD, you get an LBD...
And don't worry, you don't have to wait months for the pieces to finally make it on the website, the new extended sizing capsule collection is available right now on NastyGal.com. I've already added things to my cart, and I suggest you do the same.