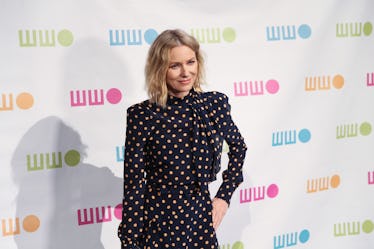 Before Being Cast In The 'GOT' Prequel, Naomi Watts Had Never Seen The Show
Rob Kim/Getty Images Entertainment/Getty Images
With only six more episodes to go, Game of Thrones is nearly completed. Throughout the seven seasons the show has been on the air, the audience has grown exponentially, making it an outlier show in a time when viewership for the small screen has been contracting everywhere. But even so, there are still millions who have never tuned into a single episode. If you are one of those people, you're in good company, as fans learned this week Naomi Watts hasn't seen Game Of Thrones either, despite having been cast as the lead in the forthcoming prequel show.
As someone who writes about TV and Thrones for a living, you would be surprised how often people tell me they've never watched the show. From "I don't have HBO" to "fantasy's not my thing," there are myriad reasons people don't watch the show, even as all of the hype surrounding the series causes them to assume everyone else around them probably is.
For Watts, it sounds like Game of Thrones was one of those shows she meant to get around to, but then never had the time.
As she told Entertainment Tonight:
I am late coming to it, I have to say. But that's how I am with lots of things in life.
But like all good actors, now Watts is heading to Westeros herself next year, she's binging the show for "homework purposes," and it's turned her into a fan.
I am binging it right now and studying. It's very exciting.
Watts will be joined in the new series by Josh Whitehouse, who currently plays Hugh Armitage in Poldark. No word from him yet if he's also just getting started on watching the original series to prepare for the new one.
Meanwhile, the name of the prequel series turns out to still be up in the air. When announcing Watt's casting, George R.R. Martin used the name The Long Night in a seemingly definitive manner, but this week has backtracked on this, apparently at HBO's request.
Oh, I should also mention… HBO has informed me that the Jane Goldman pilot is not (yet) titled THE LONG NIGHT. That's is certainly the title I prefer, but for the moment the pilot is still officially UNTITLED. So… mea culpa, mea culpa, mea culpa. Elsewise, the pilot is coming along well, with casting falling into place. I could tell you more, but I am not supposed to.
But interestingly, the other piece of information where Martin contradicted HBO, he has not backtracked:
We also have a couple of other successor shows still in development, but I cannot tell you about those either. Sorry.
Still, for fans who are worried about the coming end to the original series, this news of more shows to come, plus perhaps a movie or two in development of Martin's other works, fans of Westeros should have more to look forward to in 2020.
Game of Thrones Season 8, the final six episodes of the series, arrives on HBO in 2019.