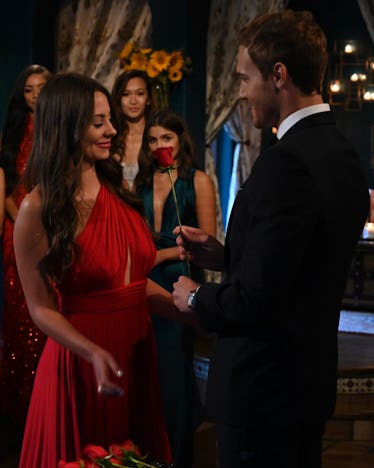 Mykenna Said What Everyone's Thinking About Peter & Kelley's Chicago Hangout
John Fleenor/Walt Disney Television/Getty Images
Weeks after Peter Weber broke off his engagement with Hannah Ann Sluss, ended his tumultuous relationship with Madison Prewett, and fended off dating rumors with his Bachelor producer Julie LaPlaca, Bachelor Nation's most indecisive star was photographed looking very flirty with Kelley Flanagan. They were reportedly seen galavanting around Chicago on March 25, with Weber slinging Flanagan over his shoulders. To put it lightly, the timing of their reunion isn't great. Mykenna Dorn's comment about Peter Weber and Kelley Flanagan reportedly having fun outside in the Windy City while much of the country is now practicing social distancing and quarantining sums up what a lot of people thought about the outing.
After Weber and Flanagan were photographed, Brett S. Vergara, a popular Bachelor Nation commentator, posted the images on Twitter with the caption, "Apparently Peter and Kelley are in Chicago together right now and I'm gonna need an explanation ASAP!!! And this is not social distancing!!! #TheBachelor"
He posted a screenshot of his Tweet to Instagram, where Dorn — a contestant on Weber's season — didn't hide her irritation. "guess they didn't get the quarantine memo," she commented.
Plenty of people in the comment section of Vergara's Instagram echoed Dorn's sentiments — and they're on the same page as city and state officials. On March 20, Illinois ordered all residents to stay at home. In response to the significant number of people socializing outside, Chicago closed the city's Lakefront Trail, as well as the adjoining parks and beaches on March 26.
"I dont know what I'm more disappointed by," wrote one Instagram user. "Kelley cus shes too good for him for the lack of social distancing." Another simply chimed in to write, "what don't these people get." Another raised this great point: "The man is not worth the coronavirus, Kelley."
This straight-up angry fan wrote, "Yeah explain why the f*ck they aren't social distancing and inside like the rest of Chicago is!" And then there was this angry mom who has had enough of Weber's shenanigans: "I'm two weeks into trying to homeschool these kids and really would like them to go back some day, so knock it the f*ck off and stay home Peter!"
People on Twitter were equally annoyed:
Weber and Flanagan have yet to comment.