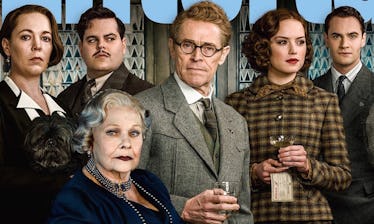 4 Things To Know About The Newest 'Murder On The Orient Express' Remake
20th Century Fox
There's nothing like a fall blockbuster with an A-list ensemble to get our movie-loving hearts racing. November is a huge month for buzzworthy film releases, and one of the most highly anticipated projects of year has got to be Kenneth Branagh's Murder on the Orient Express remake. Reboots, sequels, and revivals are a dime a dozen these days in Hollywood, but this ambitious silver screen effort looks like it's got something special. Plus, the Murder on the Orient Express ratings and reviews prove it's worth a trip to the theater.
We're not surprised by the excitement surrounding the film. The trailer alone plays out like a mini-cinematic experience, introducing audiences to all the suspects in question as well as Agatha Christie's fictional detective extraordinaire, Hercule Poirot, played to mustachioed perfection by Kenneth Branagh himself. A puzzling whodunit mystery, a wintry period setting, luxurious costumes, a cast full of Hollywood heavy-hitters... What more can you ask for in a film? The 2017 update of this classic story doesn't deviate much from the 1974 Sidney Lumet version, but it does derail ever so slightly from the sources that proceed it. Here are some things to know before you hightail it to theater to catch Murder on the Orient Express on the big screen.
The Cast Is Insane
No, seriously. Audiences rarely get ensembles that are this packed with Oscar nominated actors, with a Star Wars hero and Frozen alum in the mix to make things that much more impressive. Did we mention there are a lot of celebrated entertainers to keep track of? Penelope Cruz, Willem Dafoe, Tom Bateman, Judi Dench, Johnny Depp, Josh Gad, Michelle Pfeiffer, Daisy Ridley, Derek Jacobi, Marwan Kenzari, Olivia Colman, Manuel Garcia-Rulfo, Sergei Polunin, Marwan Kenzari, Lucy Boynton, and Miranda Raison round out the all-star cast. It's basically the Avengers of acting.
It's A Remake Based On A Book
Sidney Lumet took on Agatha Christie's tale of railroad crime in 1974 on the big screen, in a vehicle starring Albert Finney and Lauren Bacall. Ingrid Bergman won an Oscar for her portrayal of Greta and the film was nominated for five more, including Best Actor in a Leading Role and Best Writing, Adapted Screenplay. We'll have to see if Kenneth Branagh's rendition will garner any awards, but from the looks of the breathtaking scenery and opulent costume design, nods in cinematography, art direction, and costume categories aren't out of the question.
There was also a 2001 TV film adaptation starring Alfred Molina and an episode of the series Agatha Christie's Poirot that received the Orient Express treatment. All are based on Agatha Christie's 1934 novel of the same title.
The Murder Mystery Will Keep You Guessing
Everyone is a suspect when murder strikes a train traveling through Europe.
"[Yes] there are a number of surprises, I think we can safely say," Kenneth Branagh told Yahoo Movies when asked about the film's unexpected twists.
"It's less a 'whodunnit'," Dafoe elaborated, "as how did they do it? That's what we negotiate through, and how people play their hands, really, that's the game. That's the pleasure of the screenplay, it has an edge to it."
It's Already Getting Positive Reviews
The reviews surrounding 2017's Murder on the Orient Express aren't all glowing raves, but they do make the film sound like a fun and thrilling puzzle that will keep audiences more than entertained. The Guardian notes,
It's classic Branagh: sweeping landscapes, thundering score, capital-A Acting, and, excitingly – at least for format nerds like me – it's shot on 65mm film. Large-format film allows for scope and scale, richness and colour, and a tactility reminiscent of the kind of British Raj films that Branagh is explicitly throwing back to. There's giddy drama, too, in knowing the Steadicam sequences were created manually rather than engineered digitally.
The film is already on track (har har) for opening weekend box office success. Are you as intrigued as we are? As a fan of Agatha Christie, I'm already in full detective mode. I just haven't quite nailed down that signature Poirot accent as of yet.