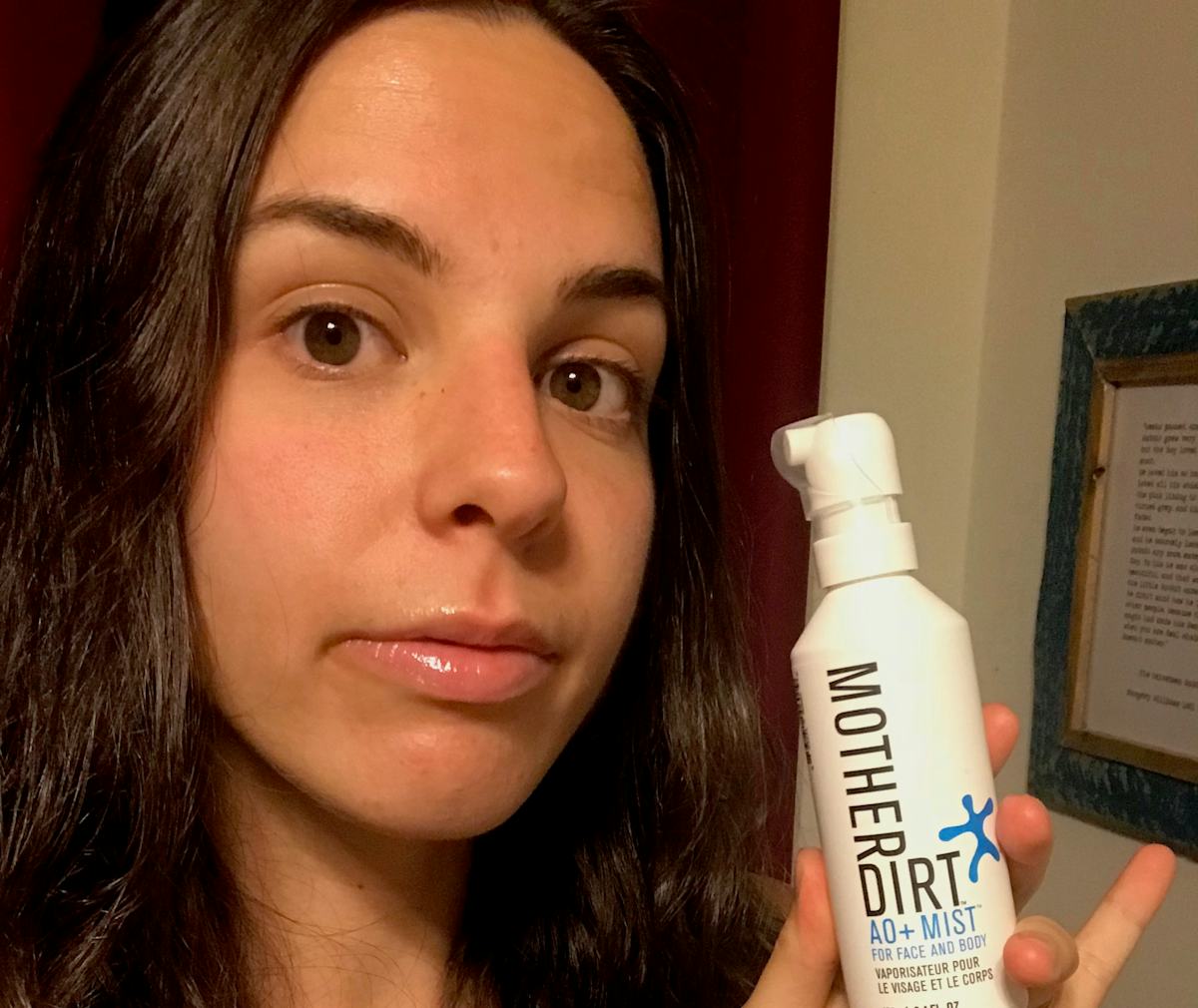 I Put Live Bacteria On My Face In The Name Of Better Skin & Stopped Everything Else
Nicole Chiarella
It's so weird: I've been sleeping terribly, stressing about grad school, and not drinking water — and my skin looks like a vampire's True Death because of it. OK so maybe not so weird, but I definitely needed help. After reading Mother Dirt reviews online, I learned that straight-up bacteria is the new snail mucus secret ingredient in skin care.
I found reviews of Mother Dirt skin care when I went online to procrastinate my various obligations, and was instantly grabbed when I saw a facial bacteria mist that was clinically researched and found to "improve the look and feel of dry and uneven skin by 35% in 4 weeks," I ran to my wallet and promptly dropped a cool $50 on what — according to my husband — was probably mold.
But this bacteria isn't like the mold you find in your shower (because you spend all your free time researching beauty products instead of cleaning, whoops). Instead, think probiotics and greek yogurt — but for your face. In an age where we drink green juice like it will save our souls, and pound kefir like it will somehow relieve our emotional baggage, maybe we should smother our skin with bacteria. With our newfound knowledge of the importance of live and active cultures, it stands to reason that spraying our faces with lil' creatures is the logical next step.
And according to rave customer reviews, The New York Times, Marie Claire, and numerous others, Mother Dirt is doing a great job.
I was so impressed, in fact, that I decided to completely abandon my skincare routine for two weeks, and replace it with just one product: the Mother Dirt AO+ Mist.
AO+ Mist, $49, Mother Dirt
According to the Mother Dirt website, the micro-fine mist boasts a "good" bacteria called AOB. "This soil bacteria is the best probiotic for your skin, as AOBs act as peacekeepers for the bacterial ecosystem of your microbiome, helping the other bacteria live in harmony with each other." I happen to love the idea of my face bacteria singing kumbaya and harmoniously inhabiting my skin.
As you can see, I have some acne and acne scarring high on my cheeks and on my chin, which I was hoping the spray would alleviate and fade. The website also claims the mist reduces the need for deodorants, moisturizers, and makeup, which sounds like an ideal way to make back my $50 and more.
The mist arrived in a refrigerated box, which felt fun and fancy. (The mist, it should be noted, has to be refrigerated in order to maintain its potency.) Housed in a typical spray bottle, the mister is good quality and sprays an even and light mist, which I appreciated. I was most worried about the smell, but this spray is virtually senseless. Scented products tend to irritate my skin, plus, I really don't want to know what bacteria smells like. Do you?
Week One
Misting my face took about three seconds and was a really refreshing feeling. After the first few days, I noticed that the texture of my skin has really improved — a benefit that I didn't even anticipate, but I'm loving. My forehead and t-zone have also been less oily at the end of the day, without being over-dry or irritated.
Also, it's been freeing AF to just focus on having ONE skin care product instead of an arsenal. All I've been doing is wiping my face morning and night with a wet wash cloth and following up with the AO+ Mist. That's it! So far, so good.
Obligatory first week-finished selfie — notice the faded hyperpigmentation!
Week Two
This spray is actually worth the hype. I haven't broken out in two weeks, which is a huge deal for me. That being said, I did notice my skin and getting dry at the end of last week, so I've started using my moisturizer again, and my skin is feeling better. My lips also got supppperrr chapped, which is weird, because I apply chapstick frantically throughout the day, so I'm not sure what was up with that.
But damn. I look good, and my hyperpigmentation is definitely fading. Combine that with the improved texture of my skin, and lack of breakouts, and I'm feeling pretty good about dousing myself in bacteria twice a day.
Obligatory end-of-experiment selfie.
(Ok, yes there is glitter and a smidge of highlighter — but no concealer or foundation or anything else!)
My Takeaway
This mist absolutely RULES, and I've already recommended it to a huge swath of people. That being said, I don't know if this "miracle" product can replace your entire skin care routine, like I was hoping. I still needed moisturizer, and at some point, I'm probably going to want an eye cream or serum because capitalism and marketing is deep and pervasive, and ageism is REAL, y'all.
But I'm happy with my misting, and do think that is delivers on its promises. So spray on, my babes. Bacteria is lit.