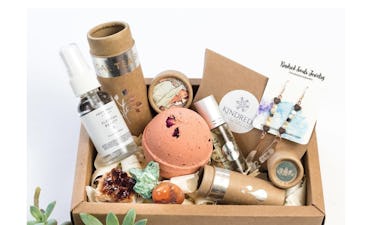 This Beauty Box Syncs Up With The Moon's Cycle For Out-Of-This-World Self Care
It seems like Mercury is nearly always in retrograde these days and I need something more positive to focus on. Some essential oils and a nice bath bomb, perhaps? The MoonBox Beauty Subscription by Gaia Collective has exactly that, because a little self-care never hurt anybody.
Gaia Collective is a wellness website that sells everything from healing crystals to lip balm to jewelry. For anyone unsure of which crystals are best for you, or like me, what to do with crystals in the first place, Gaia Collective also has a subscription box to guide you along. The service has more than crystals though – depending on what size box you opt into, you can receive candles, jewelry, tapestries, body oils, lip balm, and, the glue that holds this whole thing together, a lunar phase guide to teach you how to best live with the moon's natural stages.
Along with a "detailed astrological moon calendar, you'll receive everything you need to enjoy a bit of pampering, holistic healing, wellness practices, plus spiritual and beauty tools under the moon and stars," says the MoonBox website. Each item in the boxes is organic, vegan, ethically sourced, and usually procured from small artisans. Additionally, Gaia Collective has partnered with Trees For The Future and plants a tree for each box sold. So when you get your first MoonBox, you'll be helping the environment and supporting artists in addition to bettering yourself for the month. Namaste to that.
MoonBox
The main MoonBox starts at $34 per month, although you can add additional items for $8 each (an item of wearable crystal jewelry and/or a moon workbook). Whether or not you add any those items, each MoonBox typically comes with three small crystals, one premium crystal, a lunar phase guide, a meditation guide, new moon and full moon rituals pamphlet, and four additional artisan products.
Mini MoonBox
With the same options for adding on jewelry and a workbook ($8 each), the standard Mini MoonBox comes with three small crystals, a roll-on essential oil, a lunar tapestry, custom-blended organic tea, and a meditation guide.
Moon Mail
If you're not so sure about the whole lunar phase lifestyle thing yet, try out MoonBox's Moon Mail for only $8 per month. This "all-digital monthly moon guidance gives you access to all of the MoonBox resources," boasts the brand. Within the digital perks of this subscription are a guided meditation with a monthly featured teacher, step-by-step rituals for the moon phases, recipes for the brand's tea and essential oil blends, an iCal plug-in to remind you of the moon's phases and any big cosmic events for the month, and a downloadable lunar cycle print like the one pictured above.
MoonBox also sells past boxes ($34; moonbox.co) for one time purchases (no subscription required) if you want to try out one box before making a monthly commitment.
My take on this whole thing? The world is hectic and my life, at least, could use a boost of relaxation. And if I can make achieving that relaxation an easier on myself my having it delivered right to my door, well, that sounds pretty good to me!