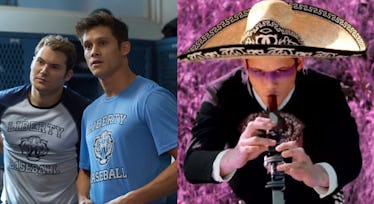 This '13 Reasons Why' Character Was Low-Key In An Old Selena Gomez Video
Netflix / YouTube
Despite serving as an executive producer on the Netflix hit 13 Reasons Why, Selena Gomez has yet to make an appearance on the teen drama, which is understandable. Part of the appeal about the show's young cast is that most of them were relatively unknown before 13 Reasons Why, allowing us to truly believe them as Liberty High students. However, for actor Timothy Granaderos, who plays unexpected Season 2 villain Montgomery de la Cruz on the series, he's managed to share the silver screen with Gomez before. Monty from 13 Reasons Why was in Selena Gomez's "Love You Like a Love Song" music video, and my mind is blown. This post contains spoilers for 13 Reasons Why Season 2.
After not appearing very much in Season 1 of 13 Reasons Why, Granaderos' Monty underwent a dark turn in the new season, sending dangerous threats to any student due to testify in the Bakers' court case against the school district. Having overheard Bryce raping Hannah without interfering, Monty didn't want his own name to come up in anyone's testimonies. His role in the messages leads to police questioning him, but he denies his involvement. He eventually sexually assaults Tyler as revenge in a moment that fans have pegged as one of the most intense 13 Reasons Why scenes yet. Whether or not Monty receives any punishment for his actions is still unknown, but his Season 2 journey likely contains some of the darkest material Granaderos has covered in his career. His past experience of working directly with Gomez took quite a different direction.
Thanks to his larger role in Season 2, viewers with seriously great memories recently took to Twitter questioning if Granaderos appeared as a mariachi band member in Gomez's 2011 music video for "Love You Like a Love Song." The musician in question wears a sombrero and a purple eye mask similar to that of the Ninja Turtles in the video. He's also at the center of a few closeup shots when he plays what appears to be a recorder.
In an interview with Seventeen, Granaderos finally responded to the public's queries, confirming that he's the familiar-looking band member. He told the magazine:
Nah, that guy in the mariachi band playing the futuristic flute wearing Donatello's purple eye mask who looks just like me isn't me... definitely not me... but if you look closely, it's me.
What?! First of all, I'm just impressed that some people even linked Granaderos to the music video. His closeups zoom by so quickly that it's hard to snag a good look at him, but we heard it right from Granaderos' mouth. He didn't elaborate on whether his music video role affected his audition for 13 Reasons Why at all, but working so closely with Gomez is definitely something not every cast member can boast about.
The lighthearted cameo is definitely worth revisiting after watching Monty's graphic abuse of Tyler at the end of Season 2. Granaderos also spoke to Seventeen about how he prepared for the emotional scene, saying:
In preparation for those scenes, I did a lot of research on similar scenarios. I was trying to understand the mentality behind such brutal acts of violence and I found that the root of Monty's actions is pain. On the days that we shot those scenes, I isolated myself as much as possible, and in between takes listened to very angst-y music. Also, the entire crew and my fellow castmates were more than amazing! Everyone was hypersensitive to the work, and provided a safe and nurturing environment.
Well, it looks like that if anyone can display the full emotional range that an actor is supposed to, it's Granaderos. I'm glad to see him in a different light after Monty's intense scenes on 13 Reasons Why.