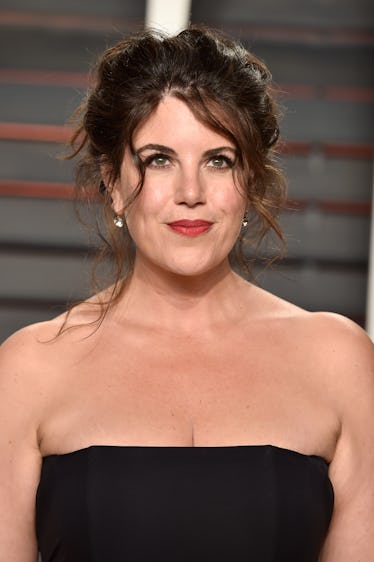 Monica Lewinsky Says She Was Uninvited To An Event With Bill Clinton, & It's Not OK
Pascal Le Segretain/Getty Images Entertainment/Getty Images
Scandals never really die. And apparently, sometimes, they keep finding new life over and over, even several decades down the road. At least, that's the lesson I got when Monica Lewinksy tweeted about being uninvited to an event because President Bill Clinton was attending. Um, what?
UPDATE: In a tweet on Thursday, May 10, Town & Country wrote, "We apologize to Ms. Lewinsky and regret the way the situation was handled."
EARLIER: Lewinsky said in a tweet addressed to the world on May 9 that she had been invited to an event about social change — but then uninvited after she had accepted. All because Clinton decided to go the unnamed event. She pointed out that it is 2018, and name dropped Emily Post, an author famous for writing about etiquette. She wrote,
dear world: please don't invite me to an event (esp one about social change) and — then after i've accepted — uninvite me because bill clinton then decided to attend/was invited. it's 2018. emily post would def not approve.
She then shed some more light on the situation with a follow up tweet that revealed the event was hosted by a magazine, and that magazine offended her even more by offering her an article instead of the invitation they had originally extended. "[D]efinitely, please don't try to ameliorate the situation by insulting me with an offer of an article in your mag," she wrote.
OK, so I know it would be a little uncomfortable to put Lewinsky and Clinton — who notoriously had an affair in the late '90s while he was serving as president and she was a White House intern — in the same room together, but actively disinviting her? That's not OK. Not only is it rude, but it's completely unfair that one person gets to continue to enjoy public life, while the other is excluded.
Her fairly cryptic tweets left the event and magazine vague, but Huffington Post reported that it was Town & Country magazine's annual philanthropic event, which was held on May 9. The event is intended to celebrate "five years of looking forward and giving back." Funny, I wouldn't have thought invitations would be included in that "giving back." Elite Daily reached out to Town & Country for comment, but did not immediately hear back.
If that is the event, Clinton wasn't just invited. He actually kicked off the event by introducing Marjory Stoneman Douglas High School student and gun-control advocate Emma González. However, Clinton said through a spokesperson that he wasn't aware that Lewinsky had been uninvited. According to a tweet from Angel Ureña, Clinton's press secretary, the former president had merely received the invitation and accepted, without knowing anything about Lewinsky's invitation or it being pulled. "President Clinton was invited to address the Town & Country Philanthropy Summit," he tweeted. "He gladly accepted. Neither he nor his staff knew anything about the invitation or it being rescinded."
Lewinsky's relationship with Clinton has been under renewed scrutiny in the wake of the #MeToo movement, partly because she's been taking a second look herself. In March 2018, she reflected on her relationship with Clinton and how it has affected her in a piece she wrote for Vanity Fair. She did not say that the relationship was non-consensual, but she began to analyze more deeply the power structures inherent in a relationship between the president of the United States and a White House intern.
She wrote:
Now, at 44, I'm beginning (just beginning) to consider the implications of the power differentials that were so vast between a president and a White House intern. I'm beginning to entertain the notion that in such a circumstance the idea of consent might well be rendered moot.
Much of the reason she had started even beginning to consider that, she wrote, was because of #MeToo, which has helped shine a light on a culture of sexual misconduct and abuse. She said the movement gave a voice and a community to those like her that have suffered sexual misconduct, but even with that support there are obviously still issues — like the fact that she was just uninvited to an event because the man she once had an affair with was going.
The injustice of that was not lost on director and comedian Judd Apatow, who responded an hour after Lewinsky's tweet saying that this problem is exactly what "everyone" is fighting against and that the magazine should be "ashamed of themselves".
I get it — having two people who were at the center of the biggest scandal of the '90s in the same room at the same time would be a bad look. But it seems pretty clear that letting the man involved maintain his public life, while the woman gets pushed aside, is an even worse look. Just saying.