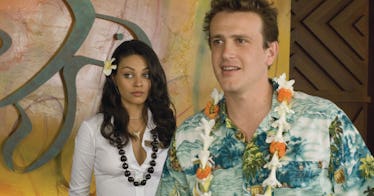 There's A Hidden 'Forgetting Sarah Marshall' Cameo That Will Make You Audibly Gasp
Universal Pictures
Forgetting Sarah Marshall is one of those movies that everyone has at least seen parts of thanks to its constant TV airings. With such frequent playtime, you'd think that there are fans out there who know the comedy like the back of their hand, but an eagle-eyed viewer has discovered a mind-boggling cameo that makes me want to watch the film all over again. The movie launched in theaters only a month before the first Sex and the City film debuted in 2008, and Miranda's cameo in Forgetting Sarah Marshall is a surprise, subtle hint related to that coincidence.
Film critic David Ehrlich first pointed out the quick cameo of Sex and the City's Miranda Hobbes, aka actress Cynthia Nixon, on Twitter, citing the scene when Jason Segel's Peter gets drunk after arriving in Hawaii. Peter pretends to be on Sex and the City, flaunting his cocktail and essentially delivering a tipsy monologue to thin air. At one point, he says, "I'm on Sex and the City! What's up, Miranda?"
I'm sure that 2008's movie theater audiences loved the always relevant pop culture reference, but they may not have caught the blink-and-you-missed-it moment behind Peter. As Ehrlich shares, you can catch Nixon walking past Peter with a bemused expression as he sends a shoutout to everyone's favorite redheaded lawyer.
Mind. Blown.
Seeing as Nixon officially joined New York's gubernatorial race earlier this year, it feels particularly fitting that someone has spotted her cameo at this moment in time. If you watch the scene, Peter even slightly turns his body toward Nixon/Miranda (who is she supposed to be in the world of the movie?) as she enters the scene and quickly walks out of it.
BuzzFeed points out that Nixon's name isn't included in the film's credits alongside other celebrity cameos and that her representatives have yet to confirm that it's exactly her in the movie, but come on, guys. It's her, right?
As for other real-life cameos in Forgetting Sarah Marshall, the film also includes Billy Bush as himself, but features the likes of Paul Rudd, Jason Bateman, and Jonah Hill in secondary roles. Let's not forget the pretty epic lineup of lead stars Segel, Kristen Bell, Mila Kunis, and Russell Brand. Nixon's name clearly belongs among these other legends, but her speedy cameo isn't the first time filmmakers have tried to pull subtle movie magic on us.
Remember the scene in The Holiday when Kate Winslet and Jack Black are perusing the shelves at Blockbuster (R.I.P)? Black's Miles holds up a copy of The Graduate, and the camera then cuts to The Graduate's lead, Dustin Hoffman, watching them from down the aisle.
In this case, the movie makes it clear that Hoffman is playing himself in the scene, but it seems that the minds behind Forgetting Sarah Marshall aren't spilling about Nixon just because fans finally noticed her presence. To be fair, if you Google her cameo, plenty of movie trivia pages dating far back do mention it, but now I need Jason Segel or even Nixon to discuss how the cameo came to be. Anniversary audio commentary, anyone?
Then again, Nixon has far more important things on her plate right now, particularly her candidacy for New York State governor. She first announced her political plans in March with a video message that soon went viral.
In a true sign of friendship, her former Sex and the City co-star and fellow New Yorker, Sarah Jessica Parker, has even confirmed her support of Nixon's campaign. In the lead-up to Election Day, I'd forgive Nixon for not mentioning this Forgetting Sarah Marshall cameo if she and SJP hit the voting booths together. Just me?