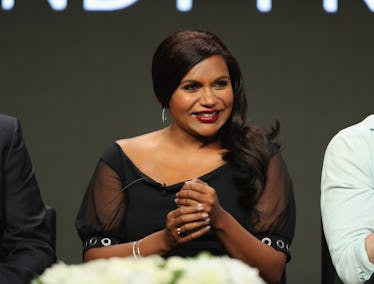 Mindy Kaling Welcomed Her Baby Girl & Her Name Is Perfect
Joe Scarnici/Getty Images Entertainment/Getty Images
Congratulations to Mindy! Sources confirm that Mindy Kaling gave birth last week to her first child — a daughter named Katherine Kaling — E! News reported. Katherine was born on Dec. 15, 2017. Both mother and daughter are doing fine.
Kaling, who produced and starred in The Mindy Project, revealed last July that she was pregnant with her first child, calling it "an unexpected surprise." It was revealed soon after that this new "Mindy Project" would become her main focus, as she ended her show's run on Hulu just this past November.
Kaling opened up about her hopes for her soon-to-be-born child on The Today Show not long after the announcement was made.
I'd like to be the fun mom, I know I'm gonna be the dorky mom. So if I can be kind of fun too, I think that would be nice.
Despite discussing the upcoming birth, Kaling refused to divulge the father of her child. Some celebrity watchers assumed we would get a hint when the baby was born, and we'd find out the last name. But true to her feminist leanings, Kaling instead gave her daughter her own family's last name, leaving fans guessing once more.
Despite refusing to name the father, Kaling has been very open about the details. For instance, she, like her character, was not going to wait to be surprised by the baby's gender, and not only found out as soon as she could, but told all her co-workers on The Mindy Project... who then turned around and told the media during Paleyfest. Co-star Beth Grant, who plays Beverly Janoszewski said:
I'm just thrilled out of my mind! I cried like a baby and that it's a girl. I just think that she's up to it. I just think that she's ready and I'm very happy for her because I have a daughter that's turning 25 and it's just the greatest thing in the world!
Co-star Ed Weeks revealed how The Mindy Project ending with Kaling about to give birth was, in fact, the show coming full circle.
The show started as a tribute to her mother, who very sadly passed away just as the show is being picked up, and it ends with her having a daughter of her own.
Kaling's mother, the late Dr. Swati Chokalingam, was an OB/GYN, just like her character Mindy Lahiri was on the show. Her mother died from pancreatic cancer in 2012 — the same day FOX revealed it had picked up The Mindy Project.
Kaling didn't seem to mind, though she noted that her favorite person to reveal baby news to was her Oprah Winfrey, her co-star in A Wrinkle In Time.
At first it was like, 'OK, if anyone was going to announce big news about your private life, Oprah Winfrey is the person. You can't complain that much about it. You also can't be like, 'Hey, Oprah, zip it.' Because she's almost like a religious figure.
When The Mindy Project (the show, not the baby) ended in November, Kaling told Deadline she was grateful for the slow and gentle way it went out.
The way that TV is set up is very helpful for when a show comes to an end because as an actor, you've got acting, but [as a showrunner] you still get to edit for three months... So, as a writer-performer in television, it's a very nurturing, gradual environment to say goodbye to a show.
The Mindy Project was not nominated for a Golden Globe this year, but that's probably for the best now, as Kaling has more pressing duties to attend to in January.
When it came time to end the show, Kaling had the series go out just the way she wanted it to. It looks like she's also now starting her new beginning just the way she wants to as well.