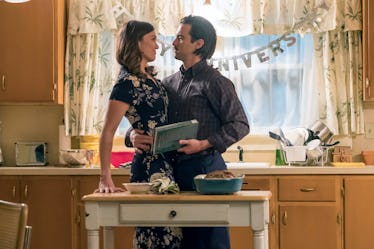 Milo Ventimiglia Explains The Exact 'This Is Us' Moment He First Connected With Jack
NBC
This Is Us returns for Season 3 at the end of the month, but for some of the show's fans, the events of last year are hard to put behind them. Jack's death by the after-effects of the fire was one of the most emotional hours of the show since the first season's pilot episode. When asked about his favorite moments, actor Milo Ventimiglia said he connected with This Is Us and his character Jack the most in the very first episode, but the fire episode was the one which pushed him to the limit.
Speaking to Entertainment Weekly ahead of the Emmy Awards, where This Is Us is nominated in five categories, Ventimiglia admitted the episode he still gets the most emotional over is the premiere episode of Season 1, in the delivery room after his wife gives birth.
The scene where I really realized that I connected with Jack the most was the pilot. It was the scene where Jack hears that his wife is okay, but he lost a baby… I remember just standing there and just nodding my head and then feeling the wind taken out of me and from that point on, every time it's action, it's not even me, it's just Jack.
Ventimiglia admitted he got the same feeling during one of the episodes of Season 2, though it wasn't the one with the fire. Instead, it was the point where Jack hits rock bottom. When his character realizes he needs to go to Alcoholics Anonymous, he has to face each of his children, admit to having a drinking problem, and he needs to get help. The worst of the three is revealing this to his teenage daughter, Kate.
Talking to Entertainment Weekly, he said:
When I stepped into that moment, again, Milo takes a back seat and it's just Jack in this moment. It was crushing. It was heartbreaking to feel what Jack felt and the fear he must've experienced knowing he's taking himself out of that hero status for his little girl.
But neither of those episodes had anything on the one with the fire. According to Ventimiglia, the episode was a huge challenge, not just for him as an actor, but for everyone involved.
We were working with real fire. Our live effects crew that were in charge of it were so responsible, but still when you're staring at a seven-foot wall of flames, it's hard not to be completely intimidated by the brutal, fierce fear of what that represents.
Even though Jack's demise has now been staged on the show, Ventimiglia isn't going anywhere. The time-jumping nature of the series will allow Season 3 to go back to decades it hasn't explored including Jack's time in Vietnam, and even maybe as far back as his childhood as well.
Those flashbacks will mix in with flash forwards as well, as Jack's three children — Kate, Kevin, and Randall — grapple with their own mortality as they all outlive the father who looms so large in their imaginations.
This Is Us Season 3 premieres on NBC on Tuesday, Sept. 25, 2018 at 9 p.m. ET.