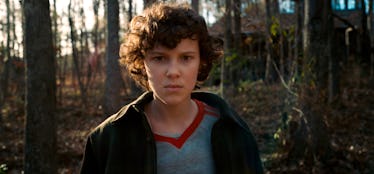 Millie Bobby Brown Wants This Unlikely Duo To Become BFF In 'Stranger Things' Season 3
Netflix
Strangers Things 2 had a lot of great stuff in it including the bromance of Dustin and Steve, new heroes and villains, and a lot more screentime with Noah Schnapp as Will Byers. But one sour note came towards the end of the series. The show, which had been so dude-heavy, finally had two girls (Max and Eleven) who could become fast friends, and instead, the guys writing the series made Eleven hate Max out of needless jealousy over Mike. Now Millie Bobby Brown is talking Stranger Things 3, and how she hopes, among other things, to see that rectified in the new season.
Stranger Things has had a delayed filming schedule for the third go-round of their ultra-popular show. It's not really their fault. Netflix changed the way they approved shows between the release of the first and second season. Stranger Things Season 2 was already a go before Season 1 began streaming, but Season 3 didn't get a green light until nearly two months after the show dropped their second season, which automatically added months to the process.
But now the show is gearing up to film their next round, with hopes of releasing it by the end of 2018, or the beginning of 2019.
Variety sat down and did a podcast roundtable with them, including Millie Bobby Brown, who says her character's evolution has been "difficult and deep," especially since everything that's been learned about her has come piecemeal.
Everything happens so unexpectedly with her... I don't know where I'm from, so that's an issue.
But it's her hope for the future that is the most touching.
Most of all I want a relationship with Max. [Mike will] need to take a seat, because best friends come first… Eleven needs to have real fun and needs some sense of normal in her life.
She also hopes for relationships with some of the other characters other than Mike as well. When Joe Keery said he hopes his character (who has now graduated high school, but most likely not gone on to college) gets to dive in more to "dad Steve," Brown says "I want that for Season 3, for Joe to be my dad!" Hopefully, Hopper won't be too offended.
Speaking of Hopper, one of the major topics of discussion is that of his own potential romance with Joyce Byers, Will's mom. Known as "Jopper," it turns out fans aren't the only one hoping the two of them find a happy ending. David Harbour, who plays Chief Hopper says he's been hoping the show would go there from the very beginning, even though he doesn't have hopes of it lasting:
The interesting thing about it is it's also going to be such a disaster if it ever happens.
But Brown is all for this: "I ship it so much!"
As to what will really happen in Stranger Things 3, the truth is we don't know that much. Much like last year, the kids will be aging up, with Season 3 set at some point during the 1985-86 school year. The show has also promised that Lucas' little sister Erica, played by Priah Ferguson, will be promoted to a "recurring character" after her breakout performance last season. The show has also cast Maya Hawke (Little Women) the daughter of Ethan Hawke and Uma Thurman, as a yet-unnamed "alternative" girl (which means she probably listens to a whole lot of R.E.M.) who gets swept up in the Upside Down adventures.
Other new characters, as yet uncast include Hawkins' Mayor, Larry Kline; a corrupt newspaperman named Bruce; and an elderly neighbor named Patricia Brown.
Stranger Things 3 does not yet have a release date, but we're hoping Netflix will deliver it before the end of 2018.